Where life is exceptional
Design that reflects rich textures and nature's form Sanctuary promises to nurture healthy and meaningful interactions between its community and the environment across a stunning Masterplan that delivers on every detail. Its genuine focus on people means your lifestyle needs are integral to the design thinking and the long term success of the Sanctuary project. Promising its own unique identity, Landing's refined and considered architecture responds directly to the site's natural assets by respectfully optimising every connection with nature that it can afford.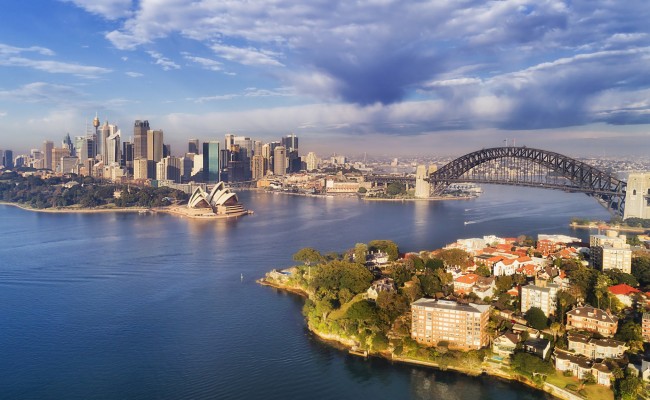 Work
Whether you work locally or further afield, Sanctuary takes the stress and time out of the daily commute, offering a robust transport infrastructure and an ideal location just 16 kilometres from the Sydney CBD. Less time on the journey means more time for play, and to spend with family and friends.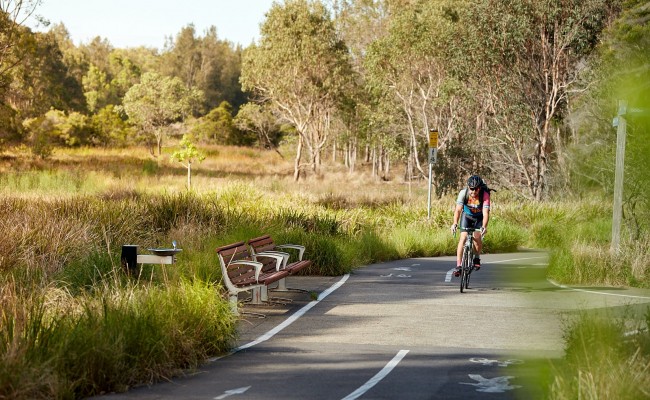 Life
Sanctuary leaves more time and opportunity to enjoy life, with its own resort-style facilities, as well as nearby parklands, cycle tracks, a thriving restaurant and bar scene and endless cafes. You also have all of the facilities of Sydney Olympic Park on your doorstep.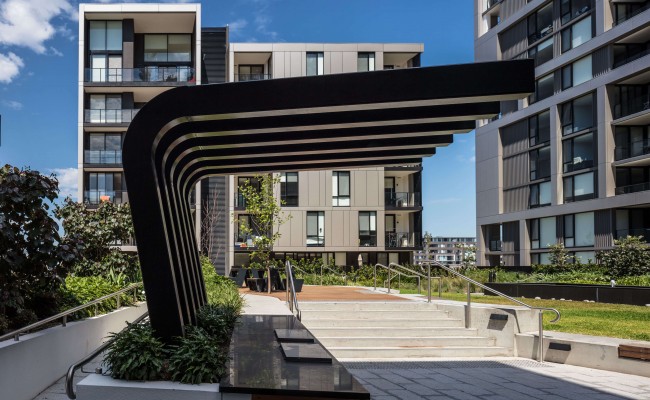 Discover
Discover a new way of life at Sanctuary - an urban escape where luxurious and sophisticated living, a warm community, and the beauty of nature come together. Where everything you need is at your fingertips, including peaceful places to retreat and relax. Here, a healthy and balanced lifestyle can be your everyday reality.
The perfect balance between city and serenity
Sanctuary is a harmonious blend of Japanese design principles and Australian identity that connects people to their environment.
Trees are plentiful and essential to design. Homes connect with surrounding parks and public areas, linking residents whilst still maintaining their privacy. A healthy lifestyle is encouraged with outdoor settings being a hallmark of the community.
Ferry
2 minute walk to Sydney Olympic Park Ferry Wharf
Dining
Close proximity to cafes and restaurants.
Reserves
47.77 hectares of nature reserve for you to explore
Explore
45km's of Bike Paths around Sydney Olympic Park
School
2 min walk to Wentworth Point Public School
Light rail
Proposed Parramatta Light Rail
Nurturing the community
A pathway that leads to exhilarating amenities Sanctuary's Masterplan is careful to respect its surrounding parklands and waterways. The exciting inclusion of a river side café by transforming an old wharf located within the new parklands, provides the local community and the broader public with another tranquil, yet re-energised space to enjoy.
Secure above-ground, landscaped terraces are perfect for time-out, a stroll with family or to meet new friends in the community. Take advantage of sweeping views, visit the community garden or simply enjoy the water features. These thread through the development, blending the calm of the surroundings into your daily experience.
One with nature Sanctuary is an exemplary Masterplan that applies smart design, rigorous thinking and collaborative partnerships to create a unique residential opportunity. Nestled amongst an extensive green belt, Sanctuary's north facing, river fronted location is set to become one of Sydney's most sought after residential developments.

Retail & dining
Wentworth Point's Retail and Dining offering has grown with Pierside Shopping Centre servicing the locals everyday needs with IGA Supermarket, cafes and restaurants and services for the family. A new retail precinct, Marina Square opened recently and offers residents and the community stylish restaurants, fresh produce, bakeries and more.

Parks & recreation
When it comes to outdoor leisure, you're spoilt for choice, with surrounding parklands, walking and cycling tracks, the river for watersports, lookouts and extensive nature reserves. Neighbouring Sydney Olympic Park is the heart of Sydney's sport and recreation zone, and hosts major sporting facilities and world-class events and cultural attractions.

Education
Families can enjoy proximity to a range of public and private schools, including Newington College, Concord High School, Marsden High School, and the new Wentworth Point Public School which is within walking distance. As well Macquarie University is also just an easy 20 minute drive from Sanctuary.

Transport
Sanctuary is connected by a strong transport infrastructure. A range of ferry services, including the River Cat, put Parramatta, Abbotsford, Chiswick and Circular Quay just a short boat ride away. Increased bus services and connections for the region open up opportunities for work and play, and Olympic Park and Rhodes also enable rail connections to the rest of Sydney.