Why quality construction is the best investment you can make when building your dream new home
24 October 2023
---
Australian homeowners have been up against it recently: record inflation, skyrocketing interest rates, and the rising cost of living means we're all being more careful about how and when we spend.
And that means people in a position to build a new family home want to ensure their investment is worth it.
At Sekisui House Australia, investing in quality construction is our number-one priority.
"Delivering spec homes in these uncertain times gives the buyers a lot of confidence that they're paying for what they see," says David Malvern, Director of Operations at Sekisui House Australia.
And what SHAWOOD home buyers see is beautiful homes designed and constructed to stand the test of time.
Designed with precision
The superior quality of SHAWOOD homes is achieved through precision design and construction.
Malvern is a builder by trade, so he has a special appreciation for the construction of SHAWOOD homes.
"I didn't realise that there were any high-volume builders in Australia working to such a high level of detail and quality," he says, reflecting on when he first joined the business.
SHAWOOD homes were originally designed to withstand Japan's notorious earthquakes – a goal that could only be achieved through exhaustive research and development.
Our prefabricated homes are manufactured to the highest standard at our offsite Manufacturing and Quality Control factory in Ingleburn, New South Wales. Utilising a digital blueprint, our team of craftspeople in Ingleburn use this data to ensure precision is executed seamlessly- meaning beams are cut exactly to size and timbers are assembled to form your homes structure using laser-guided technology, ensuring the utmost accuracy. Metal joint fittings are then added, ensuring your home is created with millimetre-perfect precision.
Essentially, so little changes between the manufacturing and construction processes that SHAWOOD homes come together exactly as promised.
Designed to last
Of course, precision construction starts with quality materials.
That's why we only work with materials that are both resilient in harsh conditions and able to be centrally manufactured at scale.
"The quality of the timber and the engineering behind the frame is so superior to what anyone else in the market is offering. It really is," Malvern says.
All SHAWOOD homes are constructed using high-grade, sustainably grown timber from Northern Europe. It's transformed into a product called lamina, where timber is layered in order to mitigate cracks and imperfections.
The result is unmatched strength and durability – the perfect solution for Australia's extreme weather conditions.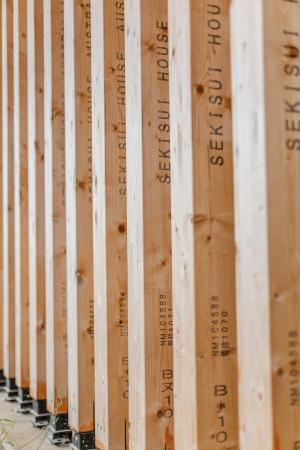 Designed for you
"Our designs are pretty clever," Malvern says. "The flow and design elements really make the home stand out."
The reality of working with a homebuilder like Sekisui House is that you – the homeowners – don't often get to see that precision engineering and quality materials at work.
What you do see is thoughtful layouts and sleek finishes that tie it all together.
The beauty is that our SHAWOOD designs are always evolving to integrate new technology and solutions – and that means they can be adapted to meet your family's unique needs.
Again, this is where off-site manufacturing makes all the difference. We closely follow the design plans for each and every SHAWOOD home at every point during the manufacturing and construction processes to ensure your new home is the best investment you'll ever make.