SHINKA is the Japanese term that when translated to English means Evolution.  
SHINKA House is a built expression of the belief that functional, healthy, and highly sustainable homes should be an immediate and economic reality for Australian consumers.
This visionary initiative has been driven by the collective experience and philosophy of a diverse group of people, most notably the past and present foundation members of Sekisui House Ltd of Japan and Sekisui House Australia.
This project's purpose is to share our insights into sustainable housing design and construction in the context of volume homebuilding. We hope to demonstrate how such insights may be materially and sustainably delivered to collectively improve the life and comfort of current and future generations.
Building a better future.
Our vision is to exhibit a home designed and constructed to operate at a Net Zero Energy level. We aim to demonstrate a perspective of how active and passive design considerations can deliver a highly functional, comfortable and energy efficient residence in the centre of a major growth corridor of metropolitan Sydney.
SHINKA House is an authentic demonstration of the unique Sekisui House approach to creating enhanced liveabilty, and our design and construction capabilities here in Australia. The home is the first Net Zero Energy home delivered by Sekisui House outside of Japan.
A global leader in sustainability, Sekisui House has constructed more Net Zero Energy homes than any other company in the world – more than 76,000 since 2013.
SHINKA House.
SHINKA House is designed for multi-generational living. At the core of the home is our proprietary SHAWOOD construction system, covering 307m2 over two stories. This home has multiple living rooms and as every family is unique, internal, and external zoni
A Net Zero Energy home is a building with zero net energy consumption, meaning the total amount of energy used by the building annually is roughly equal to the amount of renewable energy created on site.
SHINKA House delivers an extreme level of energy efficiency and can offset the household's entire annual energy consumption. The net use of electricity in an average year will be zero, with any excess energy returned to the grid. Net Zero Energy homes are viewed to enhance well-being, health, and comfort whilst minimising energy usage and costs.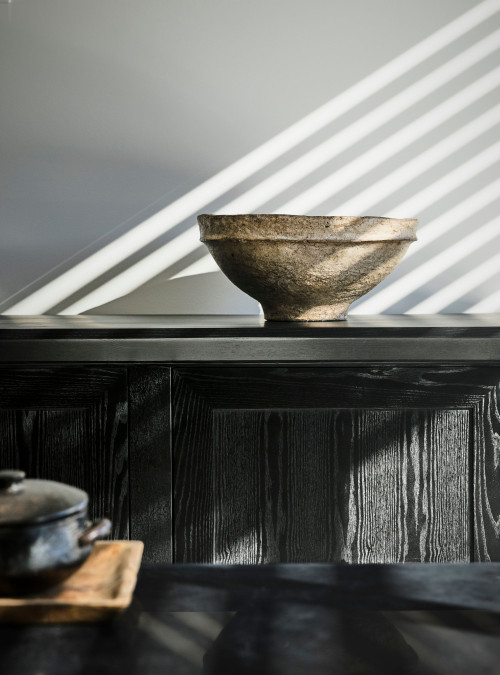 In keeping with our vision, SHINKA House incorporates a host of other design features and technologies:
Minimalist PV and battery storage

Energy and wellbeing automation

Geothermal augmented air conditioning

High-performance glazing

Water-saving appliances and water-wise landscaping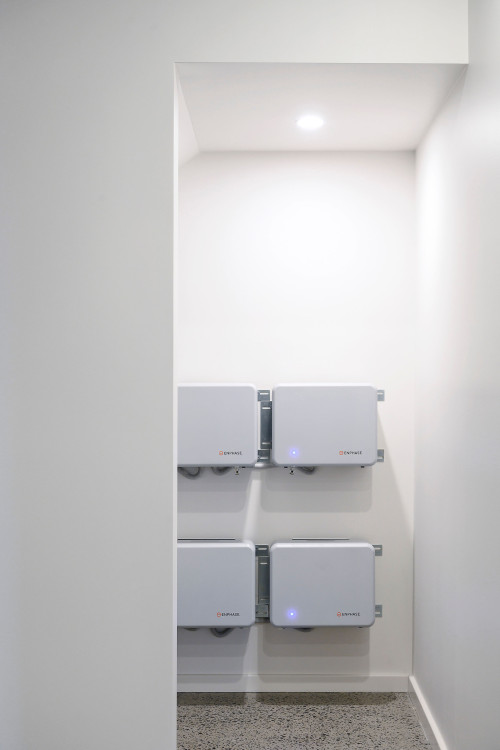 SHINKA House has achieved a NatHERS rating of 8.1 and incorporates a host of design features and technologies.
Living areas are positioned with a northerly orientation to take advantage of solar aspects whilst reducing heat gain across the warmer seasons. The garage, butler's pantry and laundry are all located on the southern side of the home to optimise thermal comfort without inhibiting primary living zones.
Operable windows and sliding doors are positioned to capture prevailing north-easterly breezes, with minimal glazing and openings facing west and south-west to reduce exposure to cooler winds.
External shading elements and eave overhangs aid the passive solar features of the home while maintaining privacy in bedrooms and living areas.
Windows installed are all double-glazed with thermally improved aluminium frames. With air tightness measures, the operational electricity demand for heating & cooling is predicted to be 85% less than the average Australian home.
The air-conditioning system utilises a ground source heat pump delivering optimum performance. Lighting within SHINKA House adopts LED fittings with motion sensor controls in bathrooms, WC's, pantry and WIR.
The hot water service is an electric heat pump storage system. The heat pump system is based on the same technology used in refrigerators and air conditioners and requires up to 80% less energy year-round than conventional hot water systems. The system works by extracting low-grade heat from the air, concentrating it and transferring it to a storage tank.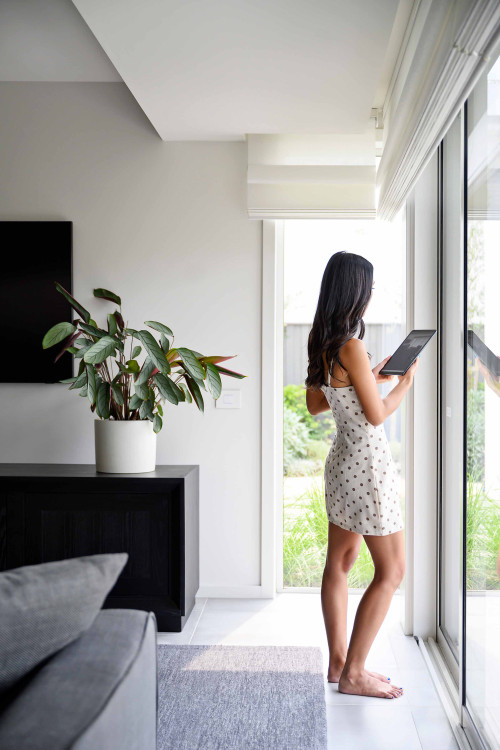 SHAWOOD and Sekisui House Australia are proud to celebrate SHINKA House's success in the below award categories:
Winner – Spec Home – 2021 HIA Australian Housing Awards

Winner – Spec Home – 2020 HIA CSR NSW Housing and Kitchen Awards

Finalist – Display Homes $800,001 & Over – 2020 MBA NSW Excellence in Housing Awards

Finalist – Energy Efficient Housing $800,001 to $2,000,000 – 2020 MBA NSW Excellence in Housing Awards