Ecco Ripley
Ecco Ripley represents a modern way of life that embraces the restorative qualities of nature.
Ecco Ripley, the master-planned community with the $1.5bn Ripley Town Centre at its heart, is happening.
Over the next 20 years, more than 120,000 people are expected to live, shop, and socialise in the Ripley region, many calling Ecco Ripley home. Everything you could need for modern living - from a 3,800m2 Coles to a medical centre, planned transit hub, childcare, schools, entertainment and more – is coming, yet it's all within a bird call of 40 hectares of parklands and open space.


Details
Ecco Ripley is a harmonious blend of Japanese design principles and Australian identity. Homes are connected by lush parks and creative public spaces, linking residents while simultaneously maintaining privacy.

Ecco Ripley is the only community in Ripley to be awarded a coveted Five Star Green-Star Community rating from the Green Building Council of Australia in acknowledgement of the attention paid to economic, social and environmental responsibility.
*This project is sold out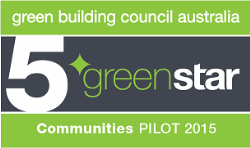 Celebrating the outdoorsy way of life
At Ecco Ripley, it's about plenty of green spaces and leisure areas, fostering a strong community spirit and celebrating the outdoorsy way of life for which Queensland is renowned. In fact, over 20% which is 40 hectares of the entire development is dedicated to parklands and green open space.
Watch the video below to take a bird's eye view of Faye Carr Park or follow the link to explore all of our parklands.