Balancing comfort and style in your family home
05 February 2018
---
Leaf through any home decor magazine, scroll through home real estate sites, or perhaps an Instagram account of an interior designer and it's likely you'll see immaculate spaces, free of clutter, where every piece is well thought out and in its place. Walk into any family home in real life and it's quite often the opposite. Can you have a home that is both stylish and comfortable? Or do you have to sacrifice one for the other?

Sekisui House believes a home's functionality, style and comfort have to be considered in the very early stages of planning - features that may not be completely obvious to the untrained eye.
"We consider how people move about the house," says Takao Sawai, Sekisui House head of corporate marketing, Australia, "and position particular areas in close proximity to each other to provide comfort and convenience for residents."
"If you've just parked your car in the garage after shopping for groceries, for example, our homes provide direct access to the pantry to get everything inside with minimal fuss. It's those sort of little ideas that make a big difference," says Sawai.
Their way of looking at the housing affordability issue is that you don't need to sacrifice comfort and design with a smaller floor plan; instead, it can be used to maximum efficiency.
An example is the inclusion of study zones within a central location in the home, instead of being tucked away in a back room.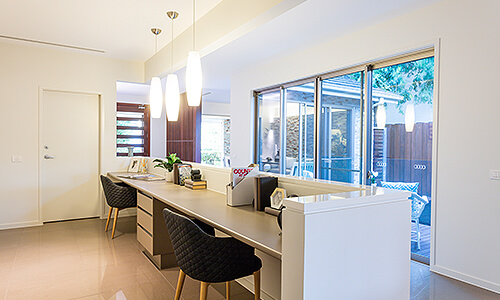 "A feature of our study nooks is a lower wall height that encourages closeness with children, it provides more family time," says Sawai.
The company's development and research team continually measure feedback from their customers to ensure future designs continue to evolve.
"There's a lot of nice architecture in the world but is it really useable?" he says.
"We are not a company that designs just for aesthetics or just for functionality. We combine lifestyle, safety, style and comfort; somewhere you might want to live for life."

Original article published on Domain.