What we can expect from houses of the future
29 January 2018
---
Growing populations and energy resourcing issues already affect how homes are designed today. But what will Australian housing look like in 2037 and beyond?

Lachlan Grant is managing director of Happy Haus, which specialises in the design, construction and installation of prefabricated homes. He believes that in the future, "housing should be fit for purpose and that means smaller".

"We think houses are oversized at the moment and that has a lot of implications, not only in terms of cost and affordability but also in terms of the ongoing costs to run those properties and in terms of the environment," he says.

Grant says he is getting more requests from customers for environmentally responsive houses.

"People are after features such as solar panels and cross-ventilation," he says. "They also want systems that support a more green approach such as grey-water and thermal heat pumps."

Getting housing back to connecting with the local environment would be a good place to be in 20 years' time," Grant says. "This means a stronger connection to the outdoors and also letting go of some of those tick-box things that dominate houses, like double garages."

Grant says designers could instead look at more interesting ways to configure areas like garages so there is a smaller footprint. "Rooms could be designed to be multi-functional," he says.

"For example, when designing a carport, make it so it can also be used as an outdoor room, or when designing a house, make sure it has the flexibility to be added onto at a later stage. If this can be done at the initial planning stage then people will get a much better outcome."

The type of materials used in future housing will revolve around what is sustainable, Grant believes. He was recently involved in a research program that looked at cross-laminated timber, a wood panel product made from solid-sawn timber, which he says is "an amazing sustainable product".

"The other interesting thing to note is what is happening to our trade bases," he says.

"The amount of people in trades is declining as we move to a services-based economy so we need products that can be manufactured and taken away and assembled rather than built on site. I think this is going to happen more as a preferred option rather than have people view it as trading down for affordability."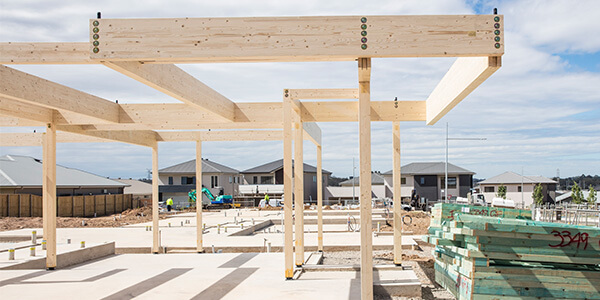 SHAWOOD frames are manufactured off-site in a Sydney factory and assembled on-site, reducing the reliance on trades.

Industry body HIA's deputy managing director Graham Wolfe says there are certain trends that will continue into the future.

"One of the most important is that land prices are so expensive that land blocks have declined in size and houses are getting smaller," he says.

"At the same time, multi-residential developments are becoming more common – not necessarily high-rise apartments but multi-residential of various shapes and sizes."

One thing that won't change is the variation in household formation, he says. "We will always have single-person households as well as multiple children and intergenerational households, "so we must to continue to provide a range of housing choices to cater to this."

More and more houses are also going to have photovoltaic capacity to generate electricity, Wolfe says. "Therefore there needs to be a facility for the storage of battery cells and this may mean a new room or an extension of a garage," he says.

"Energy efficiency is always something that will be a moving target. Material design and specification will facilitate the energy efficiency of houses and this is where innovation will play a big role."

Sekisui House's SHAWOOD product development and manufacturing manager, Makoto Ochiai, agrees that in the future society will be demanding more sustainable houses.

"Since 2015, Sekisui House Japan, has been building net zero energy houses, where the home consumes less energy than it produces," he says. "Over 70 per cent of the homes we build are net zero energy. The market is now starting to see this as the standard way of building."

SHAWOOD homes incorporate organic design principles with visionary building innovations and a deep commitment to liveability. Their structure allows for generous spaces to optimise views, light and function.

Ochiai adds he also believes future homes will make greater use of materials that require less maintenance to sustain. "This includes materials that don't produce waste when you use them, such as prefabricated or prefinished material that is made off-site," he says.

"I also think people will become more aware of the materials used, especially around chemicals. People are likely to keep their homes for a longer period of time because of housing affordability issues, so they will be demanding greater sustainability and longevity from them."

Original article published on Domain.