Our communities - where home and nature coexist
15 November 2017
---
Bringing natural elements and green spaces into the design of a community isn't exactly a new concept. But by embracing and working with the Japanese concept of Satoyama, Sekisui House ensures the communities they develop are also in harmony with their natural surroundings.

At its core, Satoyama is about the mutual benefits of integrating existing natural habitats with built environments. Put simply, it's about connecting people through 'ribbons of green', with an extra consideration for the world surrounding us.

Think of it this way. One of the biggest impacts when developing on land is how the natural landscape is altered. This happens when trees are cut down, watercourses are filled in, and land is readied for development. There's no doubt these changes to the environment affect the local flora and fauna, but isn't that just the way property development has to be?

The short answer is actually 'no'.

In the spirit of Satoyama, Sekisui House takes the natural surroundings of development sites into account before the build begins. Sekisui House believe any development and its natural surroundings can be integrated more harmoniously if we just invest time thinking about it.

Paul Wainwright is Sales and Marketing Operations Manager for one of Sekisui House's developments at
Sydney Norwest - The Orchards - a master-planned community of 1300 apartments. He says that when designing a development like this one, it's about considering how a community will fit into the existing
world, not the other way around.

"When we first look at a large site, we consider the natural quality of the land, including any existing trees or watercourses that can inform the approach to the site's development," Wainwright says.
"Our buildings are designed to fit the site rather than have the site fit the buildings."
A great example of this consideration is alive in the main driveway to The Orchards, featuring heritage pine trees that were planted around 200 years ago. "We are retaining many of these trees, along with an additional 100 significant trees throughout the estate to create a 1.4 hectare publicly accessible park. This means the development will always reflect the unique heritage of the area," he says.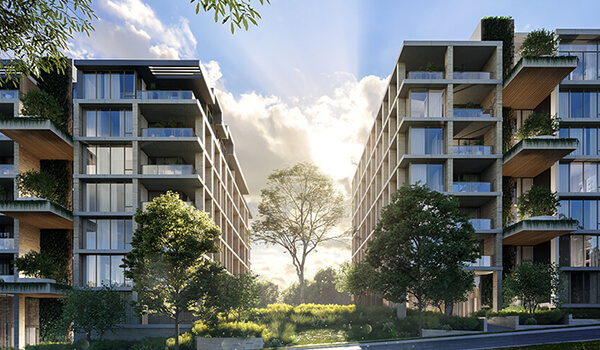 Retention of existing trees is a key consideration in The Orchards' masterplan.

Another Sekisui House development is The Hermitage, a 320-hectare master-planned community at Gledswood Hills in Sydney's south-west. Upon completion, The Hermitage will boast approximately 50 per cent dedicated open space. A considerable portion of the master-plan is located on an old golf course and the considered master-planning has attempted to position precincts within their own unique and identifying natural surrounds.

Craig Barnes, Sales, Marketing and Customer Relations Manager at Sekisui House, says the satoyama philosophy applies to this site by connecting people with the green open spaces and the natural environment.

"We have endeavoured to retain as much of the existing flora from the original site as possible," he says. "Several streets within The Hermitage meander through old golf fairways, allowing us to retain many of the existing trees. This also applies to our current and future pocket parks, with a number being constructed on old golf greens."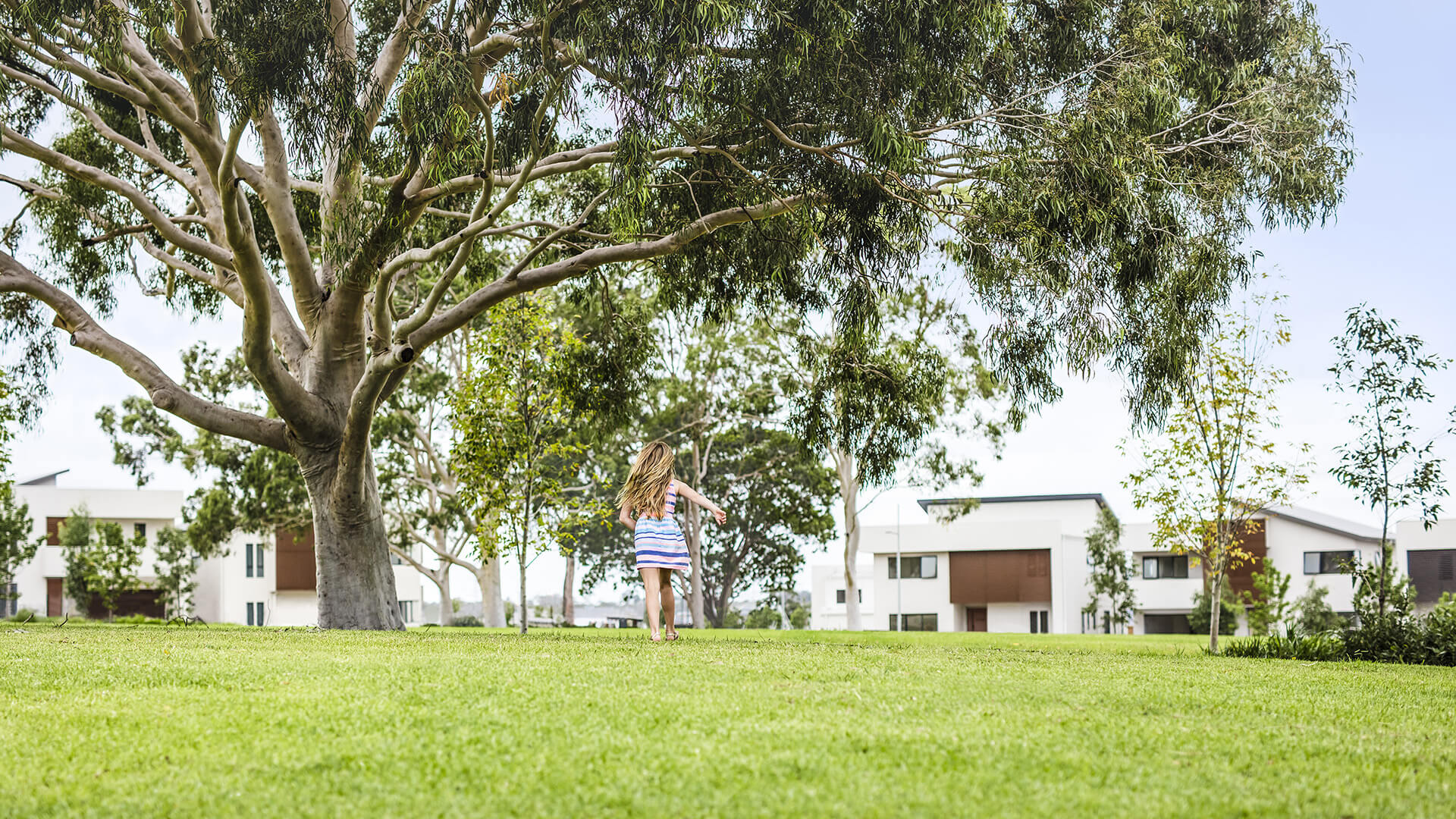 A number of pocket parks at The Hermitage, Gledswood Hills have been constructed on old golf greens.

Original article published on Domain.com.au