Sekisui House at CES 2020
07 January 2020
---
Sekisui House, Ltd. has showcased the world's first-ever in-home early detection network for acute diseases at the Consumer Electronics Show 2020 in Las Vegas.
Building on the "Platform House Concept" which was presented at CES 2019, Sekisui House has this year, unveiled innovative home technologies for an in-home early detection network (HED-Net), for health monitoring and rapid response.

Furthermore, Sekisui House has commenced a pilot project involving residents using HED-Net, which will take place in an environment that closely mirrors the residents' home environment.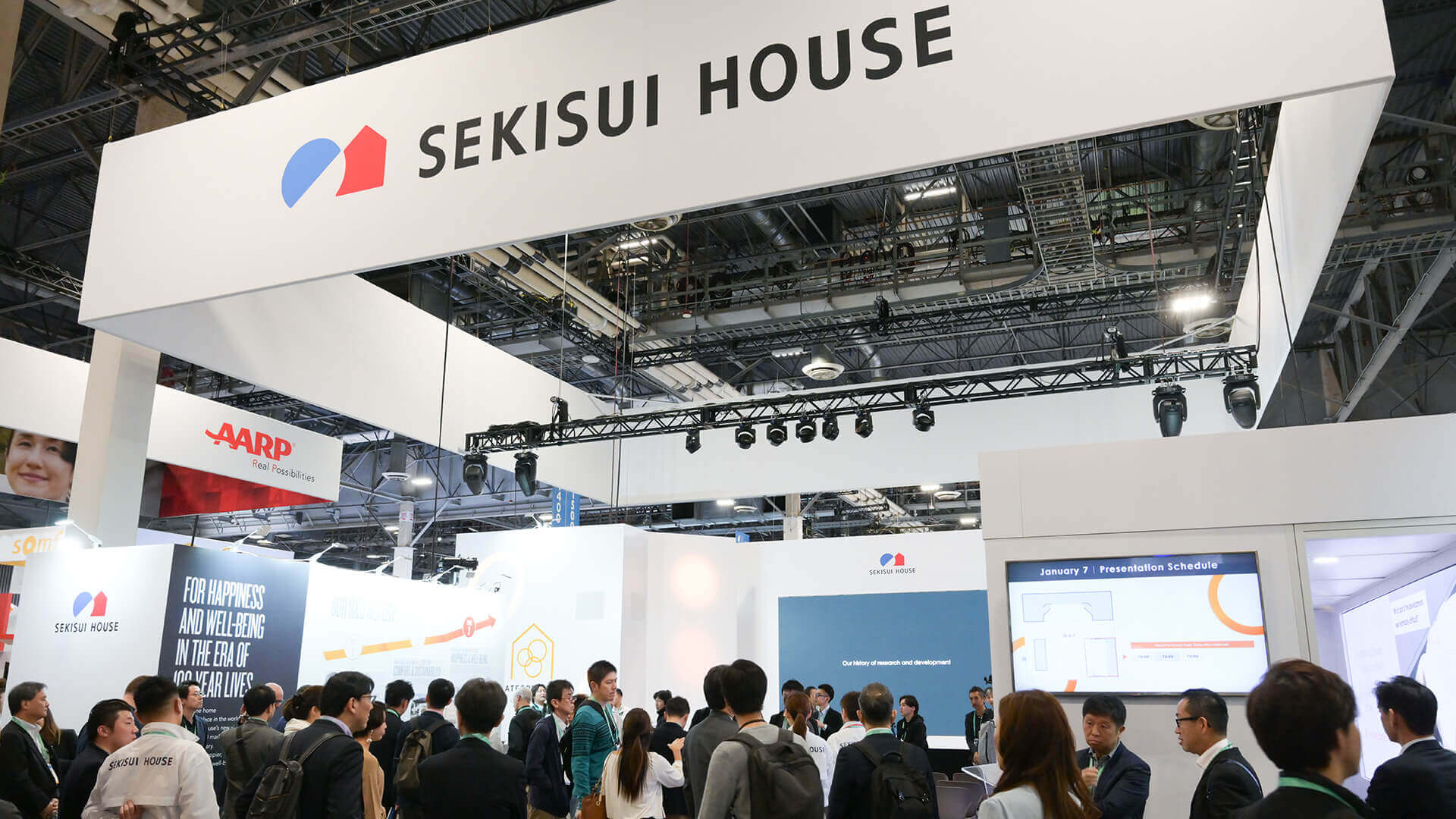 Sekisui House at CES 2020

With the year 2020 marking Sekisui House's 60th anniversary, the company aims to assist in achieving the happiness of residents in the era of 100-year lives. In January 2019, Sekisui House announced the Platform House Concept, the proprietary concept for delivering houses that assist in residents' life services over the long term. Under this concept, Sekisui House offers homes in which many services can be installed to focus on "health," "connectedness," and "learning."

Over the past year, Sekisui House has conducted focused research in health with esteemed partners for the development of a service to achieve the early detection of acute diseases that are likely to develop at home.

HED-Net detects and analyses residents' vital data at home without contact. If abnormalities that suggest the onset of an acute illness are detected, an emergency call centre is alerted. The operator immediately performs a safety check by speaking to the resident through the home's speaker, and if the result is indeed an abnormality, the operator calls an ambulance. Upon confirming a paramedic's arrival, the operator remotely unlocks the front door, all from a central location. HED-Net is the first network of its kind in the world. Sekisui House has acquired a patent in Japan for this service as a "safety check system," and are now filing an international patent application.

The importance of early detection for strokes and other acute diseases
In Japan, approximately 290,000 people experience a stroke each year, and 79% do so at home. With a stroke, it is vital to carry out the treatment at an early stage. One effective treatment for this disease called "t-PA" is used on patients within 4.5 hours after the initial onset.

However, some 15,000 people die at home every year due to delays in detecting the disease at home. When including other incidents such as heart disease, drowning in bathtubs, falling from heights, and collapsing, as many as 70,000 people die every year from accidents and illnesses at home. By implementing and spreading HED-Net, Sekisui House aims to realise a society that can early detect, and rapidly-respond, to the onset of acute illnesses at home.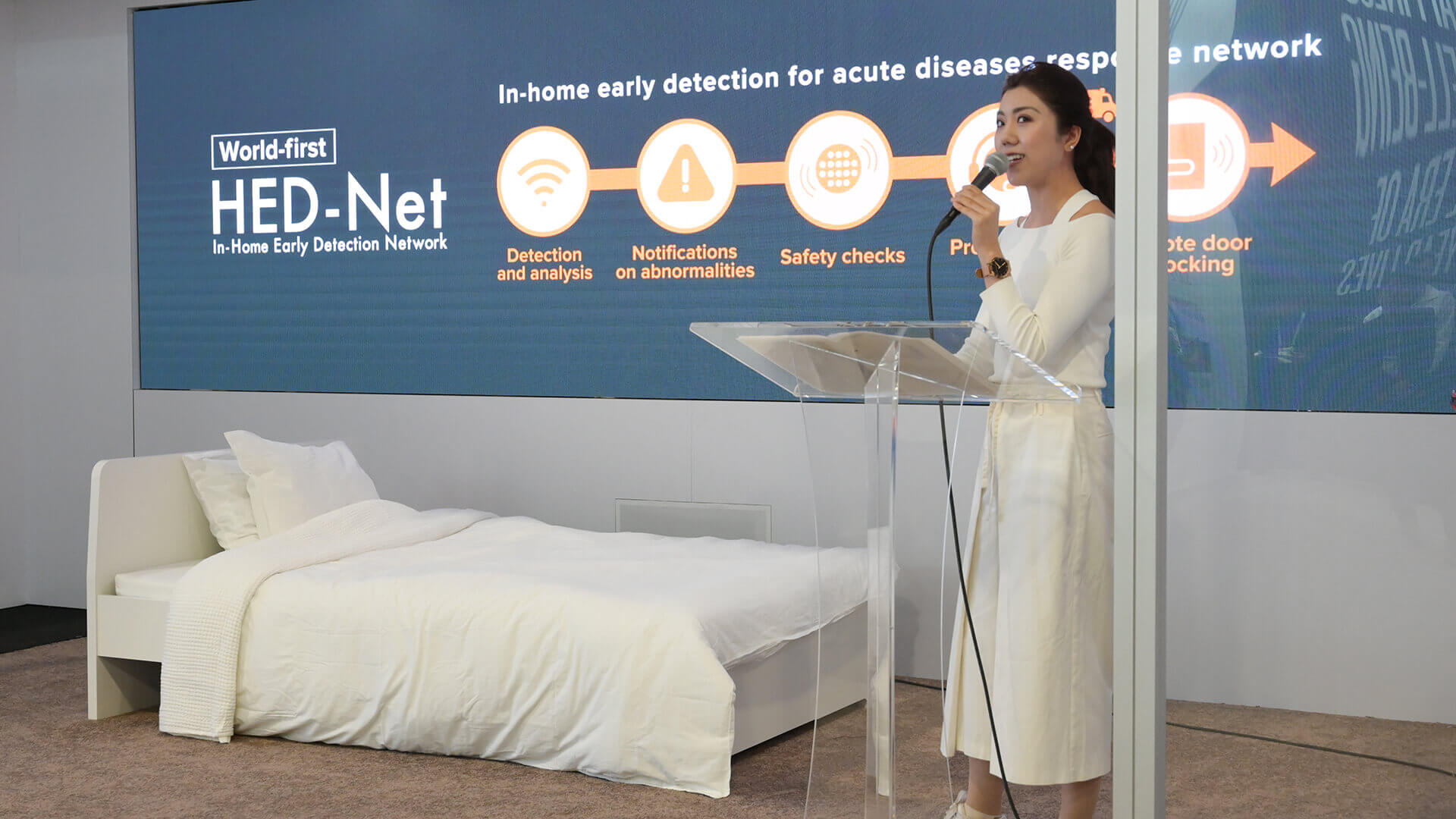 Sekisui House's contactless health monitoring technology, on show at CES 2020

Adopting stress-free "contact-less" sensors for residents
To develop HED-Net, Sekisui House has established a unique development structure under an industry-academia collaboration: applying engineering insight on sensing technologies, medical insight, expert insight from partner companies, as well as the insight held by Sekisui House. It is essential to find methods to utilise advanced technologies within residences that do not disrupt the everyday comfort of the resident's lifestyles. Thus, when developing HED-Net, Sekisui House and its partners have focused on ensuring that residents continue to enjoy life familiarly. Contact-less sensors were selected to achieve detection and analysis that would place as little stress as possible on residents. To overcome challenges such as remote door unlocking, security, and calling an ambulance, Sekisui House has collaborated with many partners from both industry and academia.

Promoting R&D with Partners
Sekisui House has worked on this endeavour with support from the partners who identify with the
Platform House Concept, such as Konica Minolta, Inc., NEC Corporation, NTT Comware Corporation, and Premier Aid Inc.

Resident-involved pilot project to launch in 2020
To establish HED-Net, it is crucial to verify its effects in the residents' actual homes, while focusing on detection and analysis of the contact-less sensor.

To this end, Sekisui House will commence testing of HED-Net in 2020. The implementation will take place in a resident-involved pilot project, conducted in a home environment that is familiar to the residents' lifestyle, rather than in a lab or hospital room.

Through this pilot project, Sekisui House aims to create this system together with its customers and those it would serve.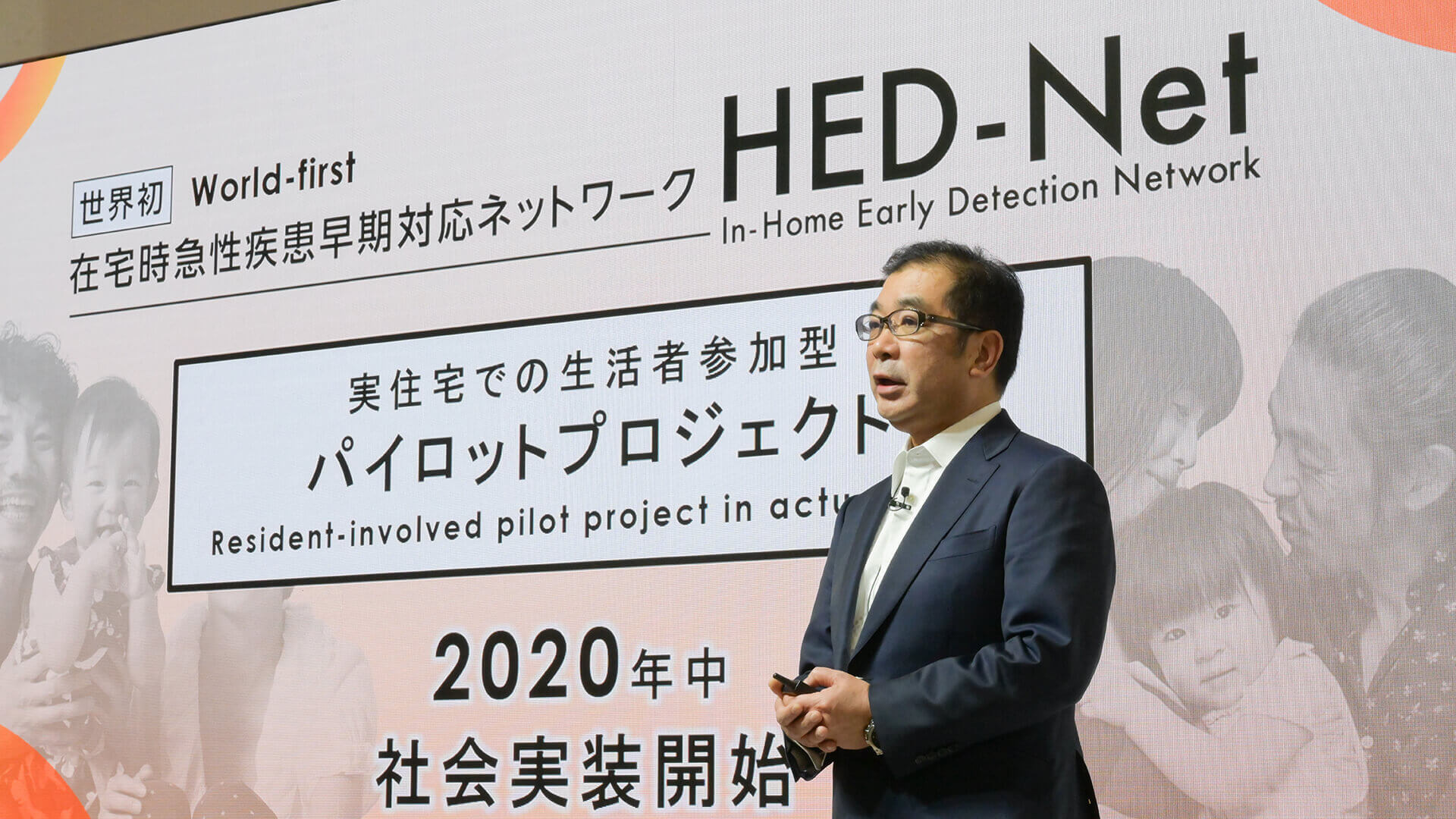 Sekisui House, Ltd.'s President Nakai presents HED-Net

Aiming to advance the Platform House further
Sekisui House seeks to advance the Platform House Concept further by developing other services focusing on "monitoring chronological changes" and "in-home prevention," using vital data collected at home. While upgrading HED-Net and collecting vital data at home, Sekisui House will conduct R&D on contact-less monitoring methods to identify disease risks early from "chronological changes." Also, Sekisui House aims to provide personalised "preventive care" services that can pre-emptively identify the risk of onset for diseases through analysing residents' vital data, and residential environment data, from a medical perspective.

Note: About the Platform House Concept
Sekisui House's vision is to make home the happiest place in the world. The Platform House Concept represents houses that assist in achieving the happiness of residents in the era of 100-year lives. Services that support health represents the company's social mission.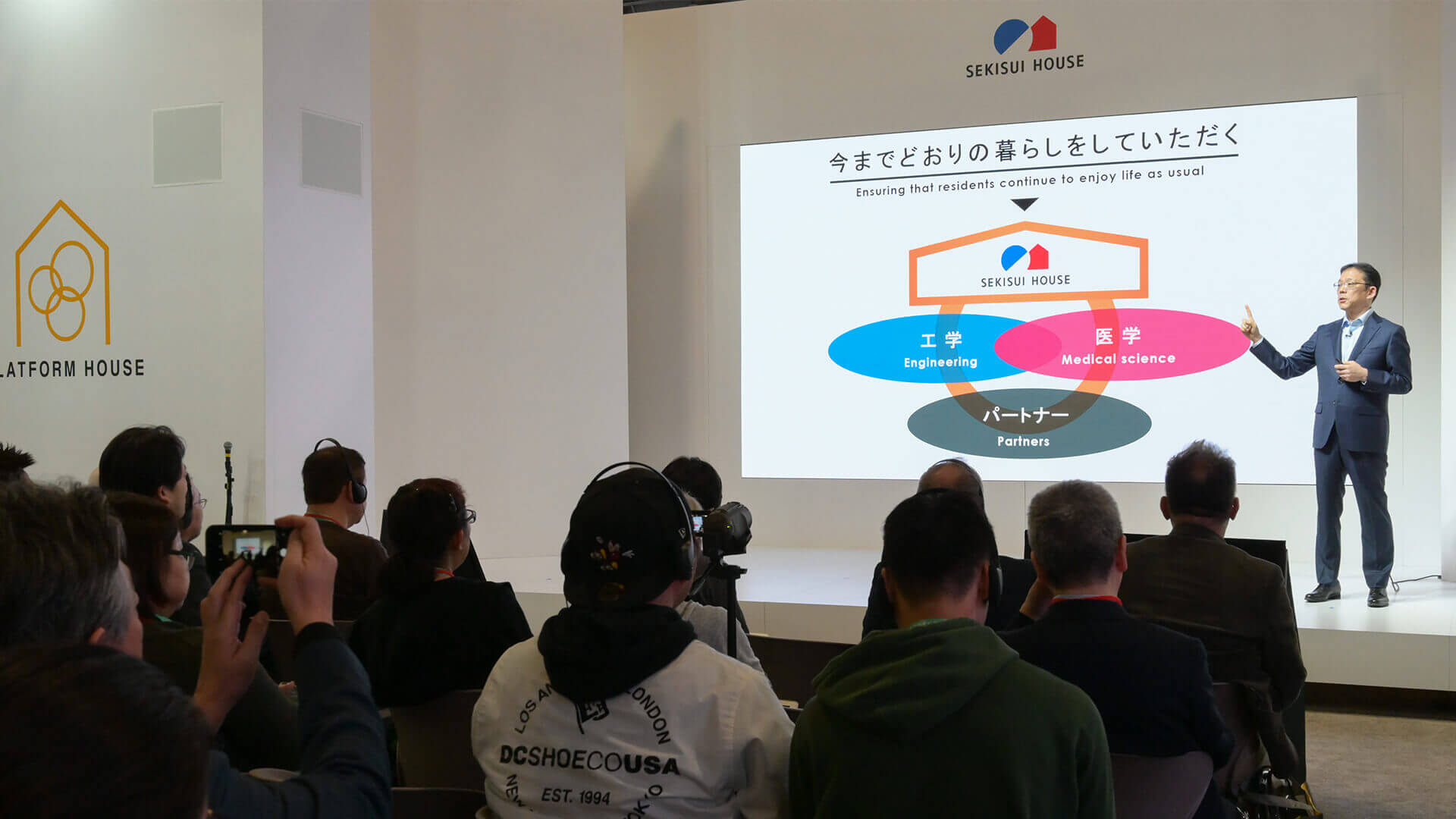 Sekisui House, Ltd.'s Executive Officer, Masayoshi Ishii