Green Stars for Ripley Town Centre
21 May 2018
---
As it prepares to open its doors, the first stage of the $1.5 billion Ripley Town Centre is on the way to achieving a green stamp of approval for Australian Excellence with the Green Building Council of Australia (GBCA).
The project, which will become the heart of the Ripley region, has secured the prestigious 5 Star Green Star – Design & As Built v1.1 – Design Review certified rating after meeting strict criteria for sustainable design and construction across nine categories.
The rating follows Sekisui House's 5 Star Green Star – Communities rating in June 2015 for neighbouring Ecco Ripley.
The accreditation aims to encourage development that reduces the impact of climate change while enhancing the health and quality of life and the sustainability of the built environment.
Sekisui House implemented a series of sustainability measures during the design and construction phases to secure the coveted rating.
"This project is packed with intelligent design features from the rooftop solar that doubles as carpark shading to rain and stormwater treatment and re-use facilities," said GBCA Chief Executive Officer Romilly Madew.
"Collectively these design elements put Ripley Town Centre in a class above when it comes to Australian excellence in sustainability.
"Ripley Town Centre's 5 Star Green Star Design Review certified rating is an important step on the path to Green Star certification and shows that the Green Star transformation of our built environment isn't confined to our capital cities, and regional projects can lead on sustainability."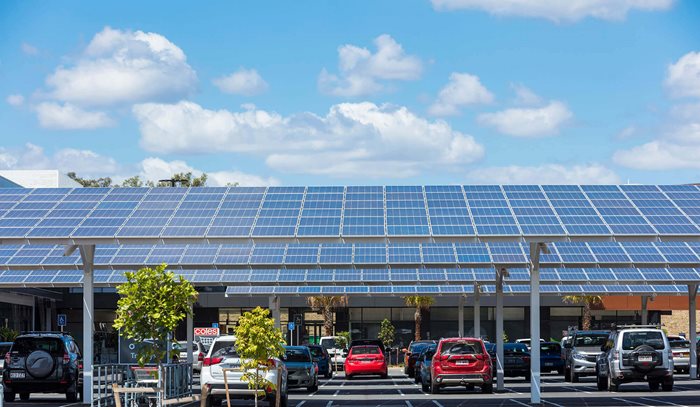 Project development manager Taku Hashimoto said sustainability excellence was a primary objective of the project.
"This commitment involves innovative design and management to achieve high indoor environment quality, energy and water saving, and a selection of low impact materials to minimise the impact on local ecology," Mr Hashimoto said.
"This includes the installation of 1800 individual solar panels, with the majority to be installed on the 360-vehicle carpark shade structures as part of the 480kW system to help generate a sizable portion of the Town Centre's power needs at peak times.
"This system contributes to the reduction of greenhouse gas emissions by at least 15 per cent.
"This will not only reduce demand on the grid at peak times, but also lower costs for tenants within Ripley Town Centre and ensure the Town Centre meets the needs of the community well into the next century."
Other measures include rainwater harvesting, the integration of a public transport hub, reduced pollution with stormwater discharged from the site, a large planted bio-basin to detain and treat stormwater and reduce peak flows, and a dematerialisation strategy to address project design elements.
A completed lifecycle assessment report demonstrating over 300 per cent cumulative reduction against seven key environmental impact categories has also been used.
Mr Hashimoto said Sekisui House was thrilled to have secured the coveted environmental rating just ahead of the opening of the $40 million first stage of the centre on May 26.
"This is just the beginning of our long-term commitment to this region to create a living environment that is world-class," he said.
"Ripley Town Centre is a showcase development that provides a clean, green environment in which to live, work, play and rest.
"This regional destination will become a shining example of urban construction living harmoniously with nature, and featuring tree-lined streets and laneways, parklands, leafy walkways, and green rooftops."
The marketplace-style first stage of the centre spans 9,400sqm and is anchored by a 3,800sqm Coles supermarket supported by 20 specialty stores, a medical centre and commercial office space.
When completed, Ripley Town Centre will comprise a broad range of commercial and retail spaces, a dining precinct, regional transit hub, community and entertainment facilities as well as new inner-urban residential nodes.
The centre will create an exciting new regional hub servicing up to 120,000 people expected to call the Ripley region home over the next 20 years.

Click here for commercial and retail leasing enquiries.