On track to progress Ripley transit hub following landmark tripartite deal
24 March 2022
---
A connected community
The Ripley Town Centre masterplan project, located in south-east Queensland's (SEQ) western growth corridor, is set to deliver a truly sustainable community for the fast-growing population, in one of Australia's largest Priority Development Areas (PDAs).
The $1.5 billion masterplan vision caters to the projected growth of the Ripley region — approximately 180,000 new residents by 2041 — and delivers on the requirements under the Ripley Valley PDA, which was declared in 2010.
Stage One of Ripley Town Centre was delivered in May 2018 and is home to a Coles Supermarket, BWS, Anytime Fitness, medical centre, and approximately 20 specialty stores across café and casual dining, health, beauty, service and business.
Once complete over the coming decade, the Ripley Town Centre masterplan will provide access to healthcare, education, retail, commercial, recreational and communities facilities, and offer a range of residential options. The masterplan also focuses on achieving access to an affordable, integrated and efficient transport system.
Ipswich to Springfield Central Public Transport Corridor
To seamlessly link Ripley and provide the much-needed connectivity to nearby Ipswich, Brisbane and beyond, a transit hub has been proposed at Ripley Town Centre to support the fast-growing region. The transit hub is one of nine new stations earmarked by the Queensland Government as part of the planned passenger rail line from Ipswich to Springfield Central (I2S).
The I2S Public Transport Corridor was highlighted by Ipswich City Council as part of the South East Queensland City Deal which was committed to in February 2019. Since this announcement, the Ripley Town Centre team has been working to lobby Council, and the State and Federal Governments, to commit the funding required to deliver this critical infrastructure and accelerate economic growth and job creation in the region.
Earlier this week, the South East Queensland City Deal was finalised and signed by all three levels of government, with $10 million now committed to progressing the I2S Options Analysis and Detailed Business Case. This landmark deal signals the start of two decades of investment in Ipswich, with local, state and federal governments working in collaboration.
For the Ripley Town Centre masterplan project, this transformative, city-shaping infrastructure will be critical to the future of the growing region, and will ultimately affect its ability to compete globally, grow sustainably and achieve high-quality living outcomes for the community.
The Ripley Town Centre team, in particular, is excited to see all levels of government recognise the importance of the I2S Public Transport Corridor, and make progress on the masterplan vision to ensure future residents and visitors have unrivalled access to quality transport connections.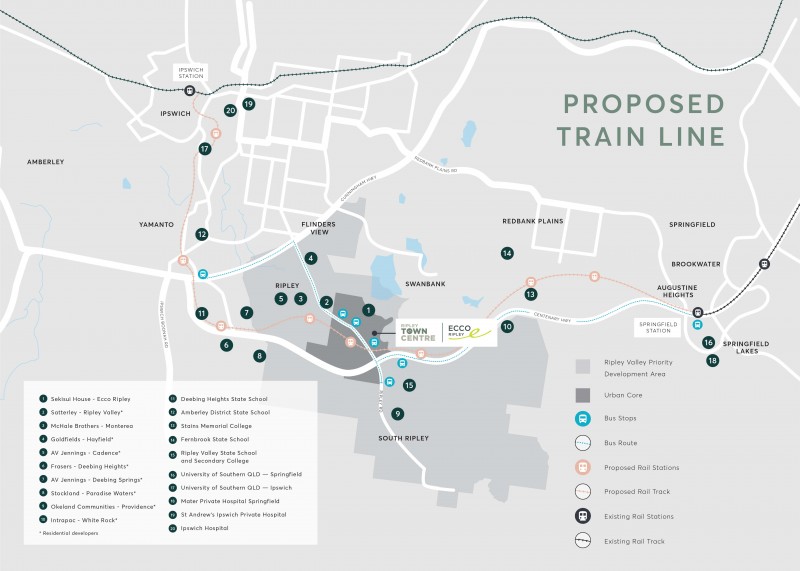 Project timeline
2019: South East Queensland City Deal established
2020: Ipswich City Council and Queensland Government commit $1.5 million to develop the I2S Strategic Business Case
2020: I2S Strategic Business Case completed
2021: I2S added to Infrastructure Australia's Infrastructure Priority List
2022: South East Queensland City Deal announces $10 million funding commitment to progress I2S Options Analysis and Detailed Business Case
2022: Ipswich City Council and Department of Transport and Main Roads to commence I2S Options Analysis.