Mutual connection between humanity and nature guides Ripley Town Centre vision
12 November 2021
---
As master community developer and home builder, Sekisui House Australia pursues the creation of world-class communities — comprising mixed-use, residential and commercial infrastructure — and continues to leverage key planning and design themes grounded in deep-rooted Japanese philosophies.
These themes have been translated for the Australian context and help to address many of the issues currently faced in the development of urban areas.
One such theme is the concept of 'Satoyama' meaning 'ribbons of green'. Derived from the Japanese words for village ('sato') and mountain ('yama'), it is a term used in Japanese culture to describe the area between a village and mountain where there is an interface between nature and people. In Satoyama, there are fields to grow rice and vegetables, natural playgrounds to explore, and forests that provide firewood and timber. Natural ecosystems are maintained, and creeks are used to irrigate fields surrounding the village. Over time, the Satoyama area is carefully managed to support village life.
At its heart, Satoyama focuses on the idea that both humans and nature can exist alongside and benefit from one another, when properly managed — achieving a harmonious interaction between natural and man-made environments. This theme has been central to Sekisui House's design principles and can be seen throughout aspects of the planning and design of its communities.
For example, at the Osaka head office in the Umeda Sky Building, an 8,000m2 semi-cultivated area has been created featuring a bamboo forest, rice terrace, vegetable farm, wooded area and tea garden. A giant green wall monument on the east side of the building also attracts various insects and butterflies, and provides a space for office workers and the public to enjoy the ecosystem at play, bringing nature to the city's heart. Every year, Sekisui House collaborates with local schools and kindergartens to give children the opportunity to plant rice and sow seeds — providing a valuable experience of nature for children who grow up in the city.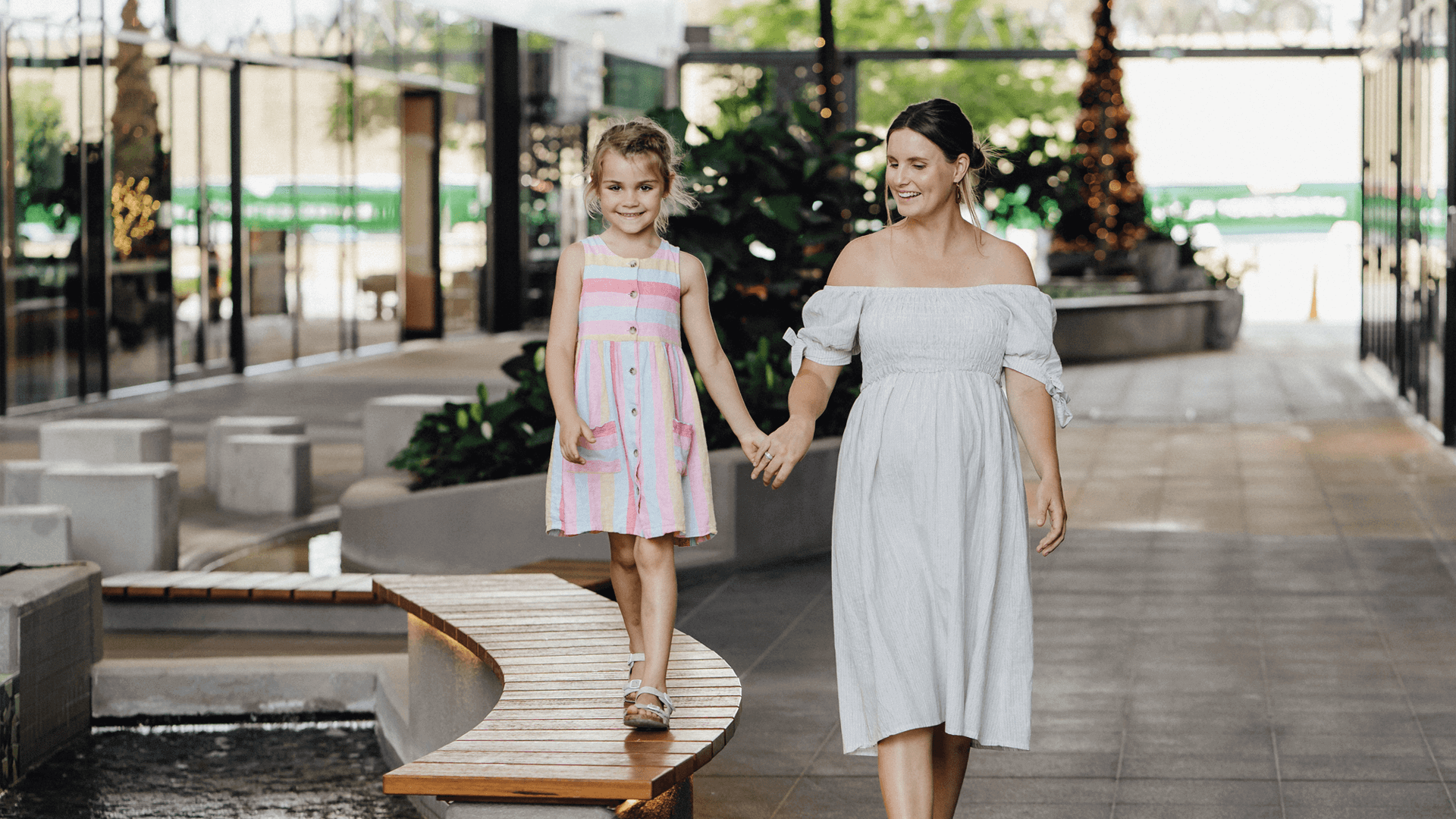 In the Australian context, this same concept can be seen at the Ripley Town Centre development in south-east Queensland's western growth corridor. Satoyama is front and centre throughout the design of Satoyama Way, which features a winding path through the mall, mimicking the nearby Bundamba Creek — a shallow stream of running water bordered by lush landscaping and benches.
Customers and visitors are connected with the sights and sounds of nature, no matter where they are in the mall. They have line of sight to the greenery of Satoyama, or the sounds of children playing in the shallow water or hopping along the stone structures. Customers and retailers alike use the space to eat lunch, read a book or watch the kids play, while workers grab a bite from one of the local cafes and sit among the coolness of the feature. This unique customer experience has contributed to the success of the Centre and its retailers since it was delivered in 2018.
Project Director, Taku Hashimoto, said Satoyama played an important role in elevating the organisation's long-term commitment to its environmental, social and governance (ESG) principles.
"Customers and investors are increasingly placing a greater focus on ESG performance and we are proud to be one of the industry leaders in this space, particularly when it comes to our retail centres," Hashimoto said.
"Sekisui House developed its Sustainability Vision 2050 as a long-term goal to reflect our ESG efforts through 13 key themes, several of which are being brought to life at Ripley Town Centre now and into the future, including the coexistence of humans and nature."
The 'Gohon no ki' ('five trees') landscaping concept, which incorporates Satoyama design, has also been considered throughout Ripley Town Centre. It aims to create gardens with native tree species that are suited to the local climate and to increase green coverage throughout the Centre. Sekisui House has planted more than 15 million trees across its locations around the globe, including more than 500,000 trees, shrubs and ground coverings to date at Ripley Town Centre and nearby residential development Ecco Ripley.
As the Ripley Town Centre masterplan vision comes to life over the coming years, Satoyama will remain at the forefront of all design and planning within the community.
Green spaces and easy access to nature will allow future residents to use all five senses and tap into our innate connection with the outdoors. On and off-road pedestrian and cycleway networks will link to all parks — offering opportunities for rest, shade and community interaction.
These communal green spaces will provide access to various facilities, parks and attractions, while existing landscape corridors will be conserved and enhanced to encourage biodiversity.
Ripley Town Centre's masterplan vision features a number of lifestyle hubs that will also champion Satoyama, including a green forecourt in the Centre's Civic Heart, open laneways and tree-lined boulevards at Central, indoor/outdoor dining and retail areas with play areas at The Esplanade, and open, roof-top green space at Parkside Village.
Find out more about Ripley Town Centre's masterplan vision at ripleytowncentre.com.au/vision/