Ipswich students gain hands-on construction skills to support industry boom
10 June 2021
---
For the second year, Construction Skills Queensland (CSQ) and Sekisui House Australia have partnered to deliver the CSQ Try'a Trade program at Ecco Ripley, providing 30 local secondary school students the opportunity to experience sought-after trades and be inspired to pursue a career in construction.
Year 10 students from Bundamba State Secondary College, Ripley Valley State Secondary College and Forest Lake State High School hammered, sawed and plastered their way through the trades on offer, which included carpentry, tiling, and painting and decorating.
Member for Ipswich Jennifer Howard MP, alongside Councillors Sheila Ireland and Jacob Madsen, welcomed students, and encouraged them to build on their skills and training to prepare them for future work in the booming construction industry.
Construction Skills Queensland Chief Executive Officer Brett Schimming said it was rewarding to once again deliver Try'a Trade at Ecco Ripley, following the success of the program in 2020.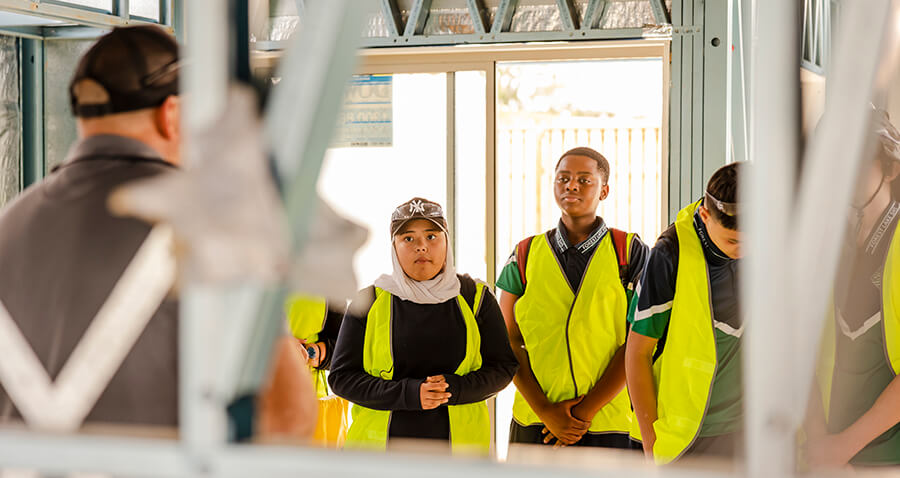 "We're excited to bring Try'a Trade back to students in this community, particularly those from Ripley Valley State Secondary College who have had the opportunity to experience what the program has to offer for the first time," Mr Schimming said.
"The industry is currently experiencing incredible growth thanks to Federal Government stimulus, so there has never been a better time to encourage more students to consider a career in construction," he said.
"We need to make sure we have a steady flow of new entrants to the industry to keep up with demand, and Try'a Trade gives us a valuable opportunity to spark the interest of the next generation of tradies".
Having learned the tricks of the trade, students also toured Shavida homes under construction, guided by on-site building managers. Shavida is a future-focused home building brand by Sekisui House Australia which was launched in April this year. Students then visited the new Shavida display homes showcasing the latest designs that reinforce why it is a global leader in sustainable home design.
This was followed by a walkthrough of the Ripley Town Centre masterplan — a mixed use hub that is set to come to life over the next decade and showcase Sekisui House Australia's global capability to deliver sustainable communities.
Ripley Valley State Secondary College Principal Brendan Krueger said the Try'a Trade program provided the catalyst for students to consider alternative career pathways in construction and the value of apprenticeship opportunities.
"As we transition our students from secondary school to the workforce and further training, we recognise the important role the college plays in this process," Mr Krueger said.
"The Try'a Trade program offers our students a real-world experience, and we look forward to seeing them grow within this high-demand industry."
Sekisui House Australia CEO and Managing Director Hide Seguchi said the organisation was delighted to partner with CSQ for a second time to expose students to the possibilities of a career in building and construction.
"Growing a sense of community is the cornerstone of what we're striving to achieve in Ripley, and that includes building and nurturing our local skills base, and providing opportunities to support local workers," Mr Seguchi said.
"As Ecco Ripley and Ripley Town Centre continue to grow, we're excited to see the next generation of local apprentices come on board, and help to shape the future of our sustainable and thriving residential and mixed-use communities."
The CSQ website is a great source of independent advice on options for those considering a career in construction. Visit www.csq.org.au.