Leveraging R&D to create unique home concepts
10 September 2020
---
Sekisui House has continued to make significant investments over the last 30 years in research and development, analysing how lifestyles and housing interact with one another in pursuit of 'happiness' and healthy living.
This research — founded through Sekisui House's Kyoto-based Comprehensive Housing and Human Life R&D Institutes — is being translated to inform the urban design of Sekisui House Australia communities, including its Ecco Ripley and Ripley Town Centre developments in south-east Queensland's western growth corridor.

Ecco Ripley last year launched its MIRAI Homes collection, a premium range of homes developed with careful active and passive design considerations to suit the local environment and the needs of Australian families, based on research from the two Institutes.

Each MIRAI Home features a unique wall system with a nano-hydrophilic, self-cleaning coating that repels heat, and sheds dust and grime with a light shower of rain. Multiple insulation layers and waterproofing also allows the home to breathe and maintain stable, year-round comfort, despite the harsh Australian climate.

Sekisui House Australia CEO and Managing Director, Hide Seguchi, said the intent of each MIRAI home is simple, but incredibly important.

"By satisfying three distinct outcomes of health and wellbeing, energy efficiency and intuitive design, we are making life at home as easy as possible for families by creating homes that are fit for purpose," Mr Seguchi said.

"The Institutes' research leads to considered urban design and applied across the built form, and we are in a unique position to take advantage of these Kyoto findings to reinterpret them for the Ripley context."

The Quadplex home at Ecco Ripley, for example, has been designed with pets in mind based on the Institutes' Dear One concept centred around pet symbiosis, with the home featuring a leash hook, wash tap and pet bed area.

The Australian home design team is exploring ways to take this a step further, working towards implementing other initiatives including air quality monitoring and purification, asthma-friendly carpet and electric car charging.

Key research has also informed the design of Ripley Town Centre Stage 1, namely the Satoyama concept. Satoyama, meaning 'ribbons of green', focuses on the integration of existing natural habitats with built environments, ensuring a natural transition from the outdoors into Ripley Town Centre for the comfort of retailers and customers alike.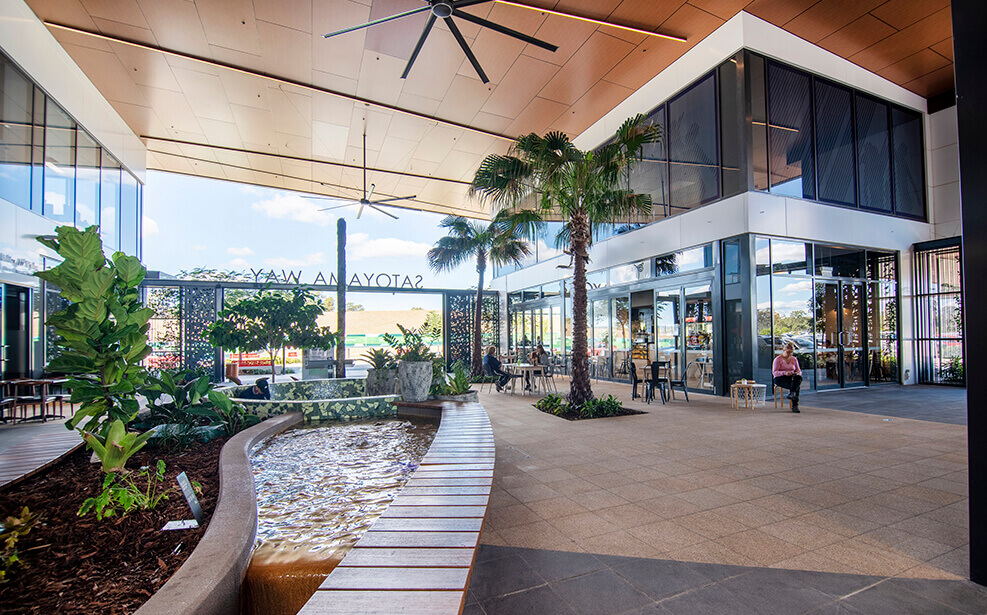 "As you move from the outside to the inside, the connection with nature remains and this is a unique aspect that is contrary to the traditional shopping centre," said Mr Seguchi.

"The sounds of running water through the spine of the mall, and being among lush landscaping and breakout spaces are just some of the hallmarks of Satoyama.

"When customers are in a tenancy, they can still feel visually connected to nature, and this has an unyielding influence on our design philosophy throughout the Centre."

In addition, Ripley Town Centre incorporates a 480kW solar panel system to deliver clean and sustainable energy to the community, energy efficient glazing, shading and insulation, and water sensitive design principles to manage storm water and prevent pollution of local waterways.

Research born from the Institutes has also been considered in the Ripley Town Centre masterplan vision and proposed initiatives, from its private community energy network to its overall building design and sustainability measures.

Concepts such as Dear One will also be translated across apartment living, as well as Otona House Awai, meaning 'future life of the couple' — an elderly living concept which will feature across South Village, the Centre's future senior living area. South Village will be a place where people can continue to live even if their health and lifestyle change, using technology to assist with health monitoring and variations in physical conditions.

Mr Seguchi said the business continues to leverage the Institutes' studies to help people live happier and healthier lives.

"Backed by science and logic, it is our intelligent approach to design that is helping to shape lifestyles, and overall health and wellbeing," he said.

"In addition to Dear One, we are also looking into offering other new lifestyle concepts such as Shuuno 3 Shimai, meaning '3 cloakroom storage 3 sisters', which offers both storage capacity and ease of use. It's a new storage method that greatly enhances liveability and attempts to resolve storage problems.

We have also developed KidsDesign Kodomo idokoro, meaning 'kids pleasing place', which represents the idea of living with children in mind and nurturing 'power of life' for children. KidsDesign homes feature family libraries, hideaway areas and graffiti walls to foster their healthy growth by considering space from their perspective."

Sekisui House Australia continues to consider how these unique lifestyle concepts could be incorporated across Ecco Ripley and Ripley Town Centre to fulfil their mission and responsibility to create lasting value for generations to come.


The Institutes


Established in 1990 as one of the world's largest research centres of its kind, the Comprehensive Housing R&D Institute team develops architectural technologies, evaluates housing performance and proposes new lifestyles elements to maximise comfortable living.

Unique to the 7,000m2 Comprehensive Housing R&D Institute is the Nattoku Kobo Studio — a home amenities experience studio where consumers and builders can consider and 'experience' housing solutions firsthand; a concept that sees around 30,000 visitors each year.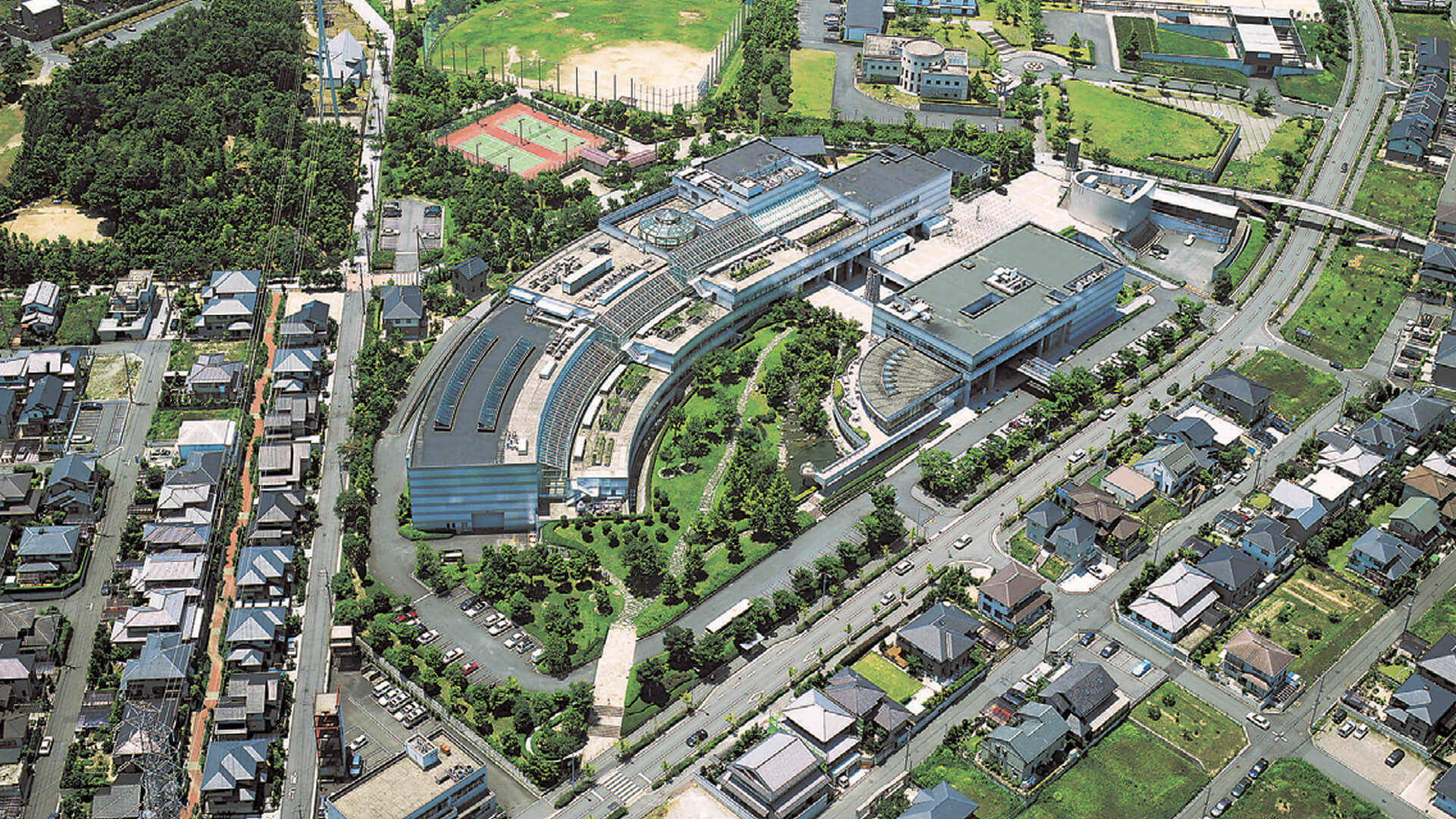 Studies out of the newer Human Life R&D Institute strive to raise the intangible value of feeling happy in the home by creating places and spaces where happiness grows the longer you live there.

This idea of happiness is explored through the notions of health, familial bonds, safety, security and comfort.

Learn more about the vision for Ripley Town Centre.