Ripley Town Centre officially opens. Game changer for western corridor
28 May 2018
---
The first stage of Ripley Town Centre officially opened this month as the $1.5 billion precinct is expected to be a catalyst for major regional growth during the next decade.
The milestone marks one of the first major regional infrastructure deliveries in the Ripley region since October 2010 when the State Government nominated it as a priority development area to accelerate development for the growth requirements in South East Queensland (SEQ).

The Ripley population is tipped to soar by almost 28% each year during the next eight years, which will underpin the growth requirements in SEQ. Latest data from Urbis shows the Ripley catchment will be the fastest growing suburb in Queensland until 2026.

This pace makes it one of Queensland's fastest-growing areas, with the district set to reach a scale comparable with Springfield or North Lakes in the future.

The State Government has spent upwards of $1.5 billion on major infrastructure items in the western corridor since 2005, and a further $500 million has recently been announced to support the corridor's growth objectives.

These include the $366 million extension of the Centenary Highway, the extension of the passenger rail line from Darra to Springfield plus the Centenary Highway duplication to Springfield valued at $1.27 billion, as well as a $124 million extension of the Ipswich Base Hospital.

The $40 million first installment of Ripley Town Centre, developed by Sekisui House and constructed by Hutchinson Builders, is anchored by a Coles store.

The first stage reflects a marketplace theme and spans 9400sqm, including 20 specialty businesses, commercial office space and 360 car parks to support the growing Ripley community.

Among the retailers are BWS, Madhouse Discount Ripley, APAR Hair Studio, Gold Class Nails, Orion Massage, Eco Shot Café, Mum's Bakehouse, Ripley News, Ecco Ripley Sales & Information Centre, The Discount Chemist, Ripley Dental Surgery, Ripley Veterinary Hospital and opening soon Ripley Medical Centre and Chinese Lor Restaurant.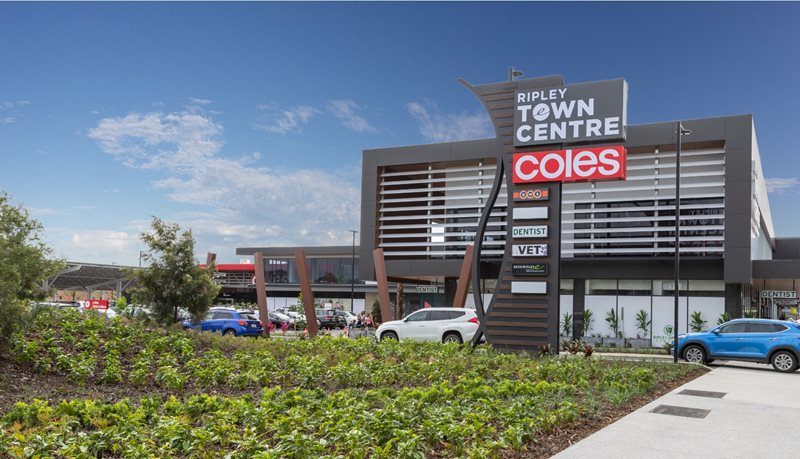 Sekisui House Australia CEO Toru Abe described the town centre opening as a "game-changer" for the western growth corridor, noting it was set to become a vital commercial and community hub for southeast Queensland.

Mr Abe said the site would ultimately turn into a 25ha precinct offering up to 1,000,000sqm of planned commercial, office and retail floor space as well as a dining precinct, regional transit hub, community and entertainment facilities, health and education, open spaces and new inner-urban residential nodes.

"Ripley Town Centre will epitomize the 20-minute neighbourhood – with everything located within 20 walking minutes," he said.

The eco-friendly town centre recently received a 5 Star Green Star rating from the Green Building Council of Australia, after complying with strict criteria for sustainable design and construction across nine categories.

Mr Abe said the rating showed that Green Star transformation of the built environment wasn't confined to Australia's capital cities.

"Regional projects can lead on sustainability," he said. "This project is packed with intelligent design features such as the rooftop solar that doubles as carpark shading and reduces greenhouse gas emissions up to 15 per cent.

"Sustainability excellence was a primary objective of the Ripley Town Centre project and this required innovative design and management to achieve high indoor environment quality, energy and water saving plus a selection of low-impact materials to minimise the impact on local ecology."

The heart of the centre offers a showpiece open air space, Satoyama Way. Landscaped with trees, green walls, water features and a range of seating areas, the design was based on the Japanese concept of Satoyama – harmonious interaction between nature and man-made environments. The area will be extended as the town centre grows.

Ripley Town Centre will hold a Main Street Festival on May 26, from 11am to 4pm, to mark the official opening and to celebrate growth and harmony in the region.

Celebrations will include sidewalk dining, live music, entertainment, kids cooking, kite flying, rock climbing, community displays, roving performers and a silent disco.

Mr Abe said the festival was designed to showcase Ripley Town Centre as a destination where people could "live, work, learn and play".