Ripley Town Centre redefines 'smart cities'
23 July 2020
---
Sekisui House Australia — the master developer behind south-east Queensland's Ripley Town Centre vision — together with placemaking partner RobertsDay, are redefining the 'smart city' concept by putting people at the centre of the community's urban design.
While the smart city framework typically draws on technology and digital solutions to solve urbanisation challenges to improve liveability, sustainability and prosperity, truly smart cities are designed around its people and their needs, first and foremost.

RobertsDay Principal, Craig Christensen, believes in creating environments for people, rather than solely relying on technologies that could raise privacy and control concerns when it comes to our data.

"To us, a true smart city doesn't forget that cities are places for people. They are loved because they encourage social interaction, rich exchange, and moments of surprise and delight," said Craig.

"Together at Ripley Town Centre, we're creating a place that people want to be in and one that enriches lives, and this requires a very holistic and 'smart' approach."

For the Ripley Town Centre masterplan vision, this has meant creating a community based on walkability and transit to enable seamless connectivity to all of life's necessities — healthcare, education, retail, commercial, and recreational and community facilities.

The Centre's vision draws on the 20-minute neighbourhood philosophy with all major facilities and amenities within a 20-minute walk, allowing future residents to live locally and in harmony with nature.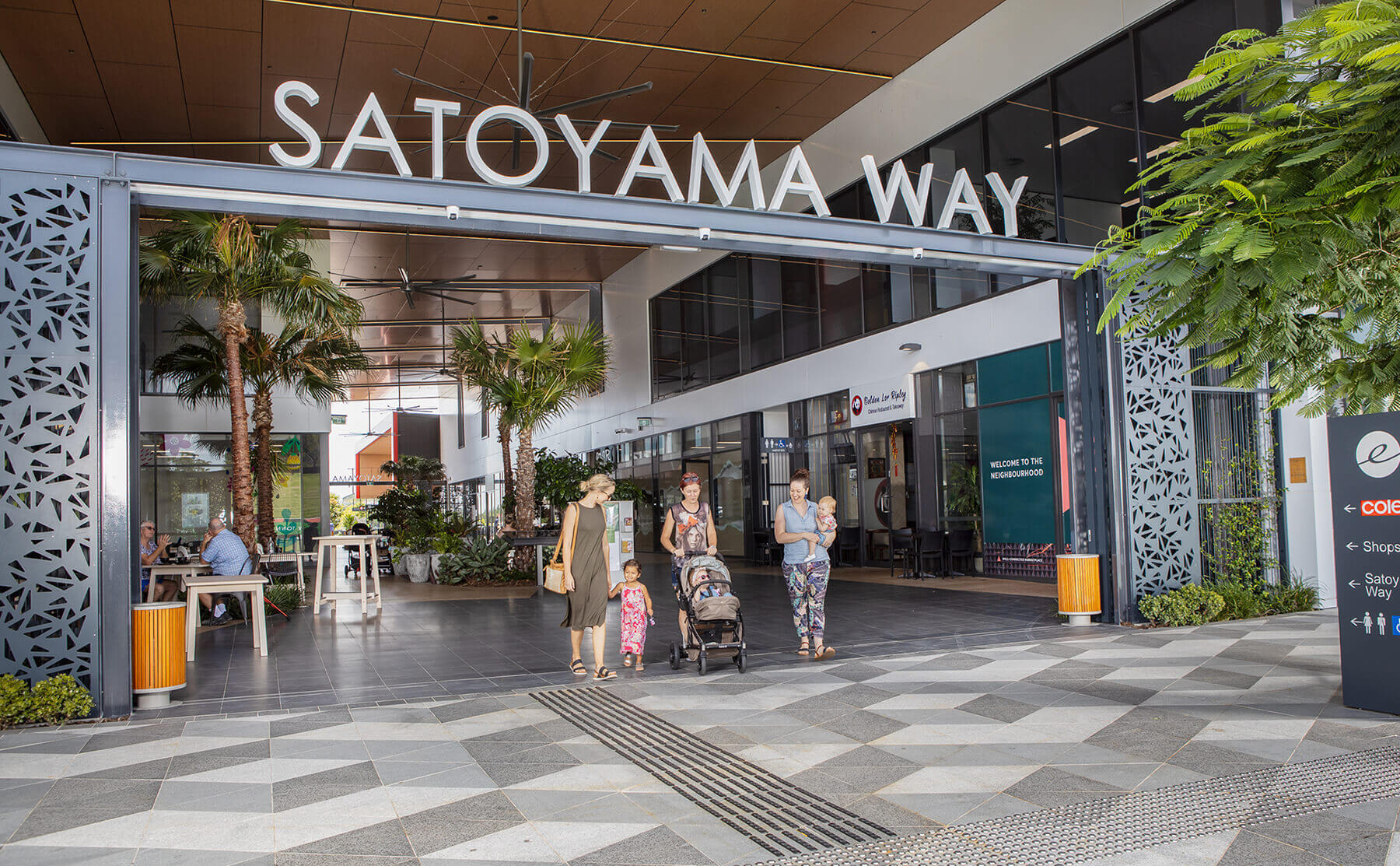 "We've taken on this philosophy at Ripley Town Centre to get people out walking, cycling and interacting with their community," Craig said.

"Long commute times affect mental health and wellbeing, taking time away from family and work/life balance. From an energy and carbon footprint perspective, we also know relying solely on vehicles to access every day necessities is not sustainable in the long term.

"It's better for our wellbeing and better for the planet to live life more locally.

"With COVID-19 placing a renewed and potentially long-term focus on remote working, what our local environment can offer in terms of walkability becomes critically important."

To reinforce Ripley Town Centre's connectivity vision, a proposed transit hub will link the region to Ipswich, Springfield, Brisbane and beyond, delivering on the requirements under the Ripley Valley Priority Development Area (PDA).

The transit hub, featuring rail and bus connections, will be vital to lead and sustain the community, and provide residents with affordable transport options that improve access to services and employment.

Craig says his take on a smart city considers placemaking and the human experience as its core, but at a much broader level than architecture or urban design.

"When you're placemaking, you're attempting to make a place more loveable, liveable and productive — a place that people will thrive in," he said.

"We look at the community, social, environmental and economic perspectives simultaneously and how we can sustain investment over a long period of time — a much more holistic approach than conventional urban design."

It's this thinking that brought to life Ripley Town Centre's 10-character precincts, a concept that is not commonly executed in the design space.

The Centre's Civic Heart, for example, will be one of the many dedicated community spaces featuring cultural institutions, education and retail experiences surrounding a green forecourt, which will become home to major community events.

The nearby Esplanade will feature alfresco dining and retail overlooking community play areas and lagoons, as well as family entertainment and leisure facilities, wide open spaces, and office and residential living with a public thoroughfare. Similarly, The Green's linear park will provide community spaces to play, exercise, picnic, and work from, fringed by retail stores, cafés, restaurants and residential living.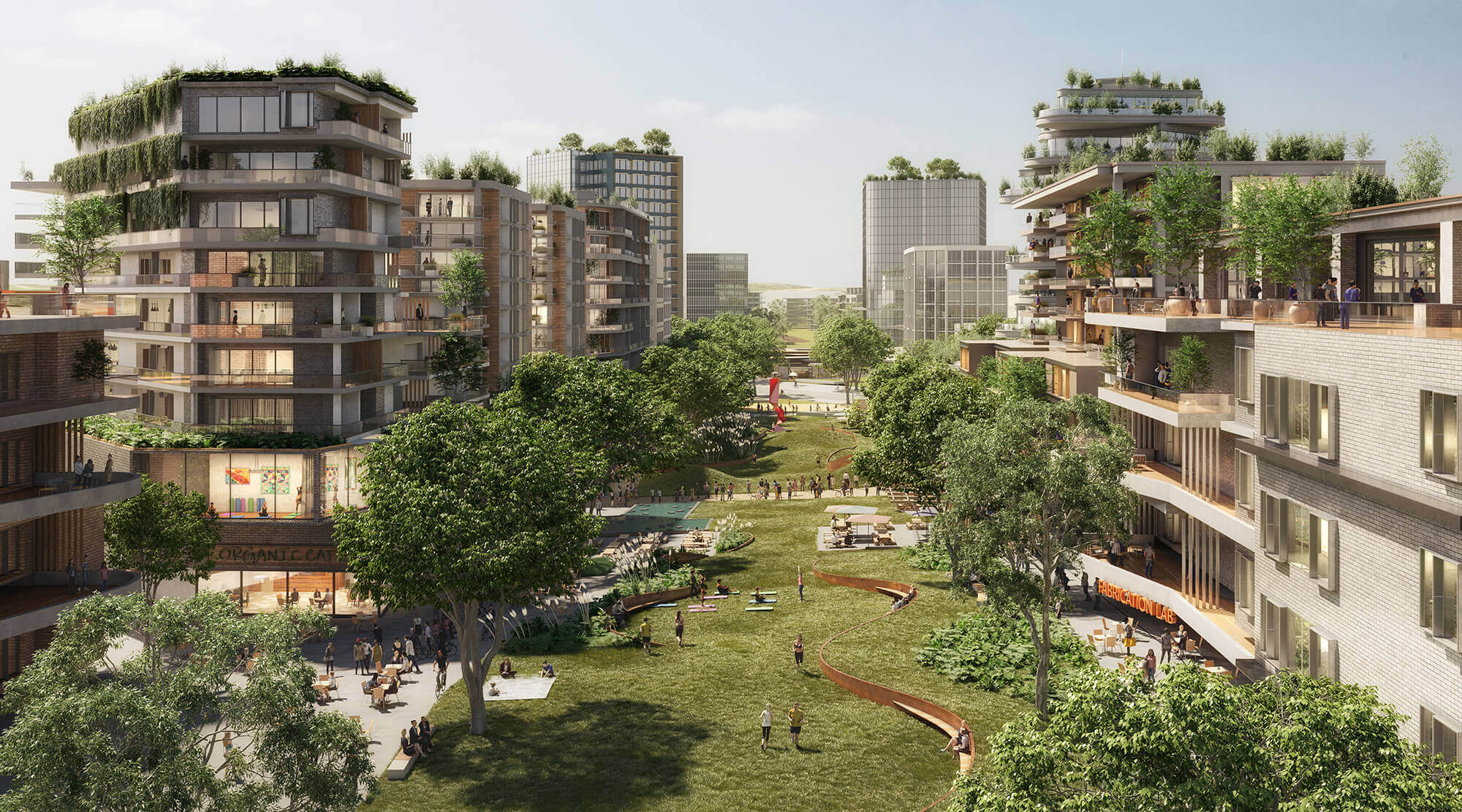 The Green - Ripley Town Centre - Artist Impression (subject to change and Council approval)

These interconnected spaces will help to enrich lives by forging the connection between home, work and play, and create a self-sufficient, circular ecosystem, and a real sense of belonging. Guided by the Japanese concept of Satoyama ('ribbons of green'), the character precincts will also integrate natural habitats with built environments, allowing the community to connect with nature.

The vision for Ripley Town Centre also incorporates unique and playful 'moments' every 100 to 150 metres along the journey. This further encourages walkability, social interaction and a feeling of place.

"We have taken advantage of Ripley's beautiful scenic landscape as well when considering the Centre's building heights," said Craig.

"We developed a constellation pattern to create a dramatic skyline, and frame gateways and arrival points, which is the opposite to the traditional concentric dome of most other town centres.

"The benefit of not clustering all the tall buildings together also means we're creating great access to breezes, daylight and surrounding views."

It is these key elements, and more, that have reinforced Ripley Town Centre's 'smart' design from the outset, elevating the human experience to enrich lives and create places that are well loved.

Find out more about the Ripley Town Centre masterplan vision.