Can a developer develop a conscience?
19 February 2018
---
When it comes to distinctly Australian fixations, few would contest that access to decent housing, urban development and the very future of how and where we live is today the very top of a passionate national discussion.
Whether it's housing affordability, the scale and quality of new developments or the cultivation and preservation of living and caring communities, Australians care deeply about the way we live, not just now but for generations to come.
Open a newspaper, go to a barbeque or mingle with other parents from school and chances are you'll see or hear a view on our social, business and political obsession: property.
It might seem superficial, especially if boiled down to simple sound bites like 'house prices', but the reality is Australians have been debating the values of how we should or shouldn't live for more than a century and with good reason.
Housing matters because it frames our daily lives.
Developing a conscience
In a country with such big contrasts in climate and environment, the quality and design of the dwellings we inhabit makes a huge difference, not just to our comfort and lifestyle, but to how communities and society functions.
Put simply, Australians now demand a bigger say and choice than ever before in how we live. We increasingly know what we want our homes to be and what we don't want.
That includes making sure modern building and development takes account of lasting quality, intelligent and functional design, genuine sustainability and commitment to community.
Now imagine if a property developer delivered on those values and stood by them, not just at a project level, but as a core corporate philosophy demonstrated over 50 years.

Building for the environment
Anyone travelling into Sydney's CBD along Broadway over the last decade can instantly recognise the transformation of the former Carlton Brewery site into the tallest green building in Australia.
It's a global landmark.
Covered in living plants as cladding from footpath to rooftop and standing 34 storeys tall, One Central Park resembles a giant vertical garden that springs from Broadway's limited tree canopy and connects as a green ribbon to the sky.
It's a statement as positive as it is deliberate.
At a time when tall residential developments routinely boast commanding city and district views exclusively for their residents, One Central Park flips that equation by creating a building you're naturally intrigued by and actually want to look at. It actually offers you something back.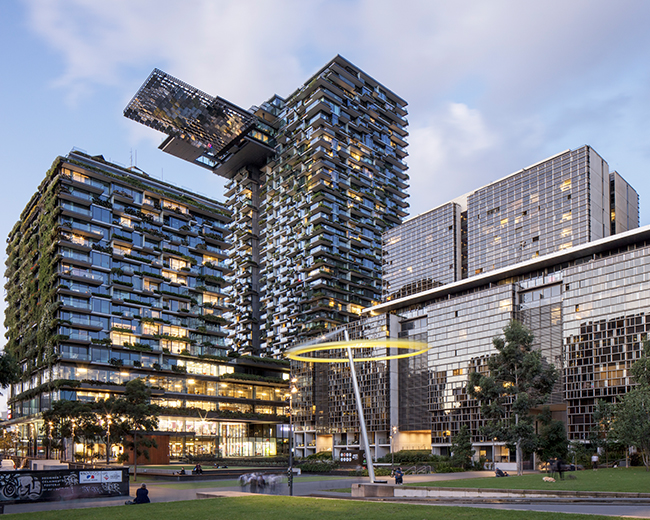 Lead by example, inspire through innovation
A collaboration between Sekisui House and Frasers Property, the building's design team was headed by Pritzker Prize-winning architects Sir Norman Foster (Foster + Partners, London) and Jean Nouvel (Ateliers Jean Nouvel, Paris).
Having won a swag of international architecture and design awards including the world prize for Best Tall Building from the prestigious Council on Tall Buildings and Urban Habitat (CTBUH), it's an example of urban renewal that's become the 'go to' reference for what's now hailed as 'density done right'.
There are multiple elements at play.
The hydroponic vertical gardens aren't just for decoration, they act to reduce the need for artificial cooling and heating in addition to being a carbon sink. Water, including stormwater, is recycled and harvested.
There is abundant natural light and ventilation, including the world's biggest residential heliostat to capture and reflect sunlight throughout the day to where it's needed, complemented by a 'skygarden'. Energy consumption is also deliberately minimised without compromising comfort by using a low carbon trigeneration plant.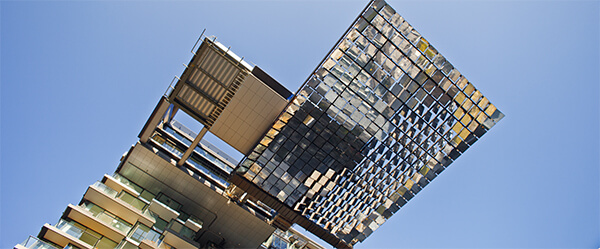 Place must contribute to community
Outstanding architectural and environmental design obviously underpin liveability — but how people interact matters greatly too.
A key reason Sekisui House took on the Central Park project was that it offered an opportunity to contribute and improve local community amenity through much more than dwellings and mixed-use buildings.
Located in downtown Chippendale — formerly an industrial neighbourhood dominated by small worker's cottages, terraces and a smattering of refitted factories and warehouses — a major element of the project was to return green space, useable parkland and cultural and creative spaces into what was previously a giant, closed industrial site.
Located opposite the University of Technology, Sydney (an uncompromising testament to Brutalism) the values of One Central Park are extended to several other medium-sized mixed-use developments which deliberately embraces and interacts with its surroundings rather than dominating or displacing them.
Tiny cottages have stayed and have been extended, now featuring street food outlets and small shops. Larger retail and commercial spaces feature services and independent businesses as well as popular franchises and larger brands. Importantly, indoors and outdoors, there are plenty of welcoming places for people to meet, quietly grab some screen time or just relax.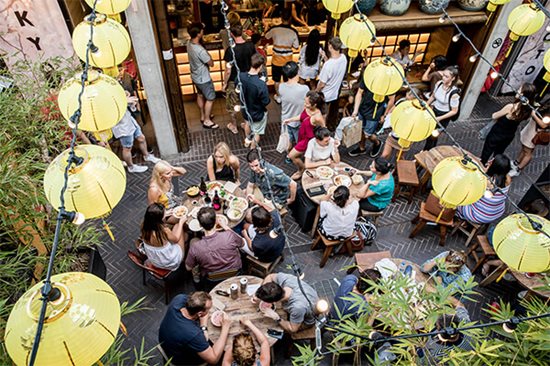 Beyond apartments
Central Park doesn't just rely on upmarket apartments to form its resident community. There is purpose built and operated student accommodation as well as more traditional strata dwellings.
There's also been a strong sponsorship commitment to surrounding creative communities including artists and designers to strengthen the area's economic diversity and keep its unique flavour.
And what glues it all together is a new 6,400 sqm tree-lined and landscaped park that's set into the middle of the development and remains quiet and secluded from the throng of one of Sydney's busiest thoroughfares.
Central Park's recognised success and evolution – both at a planning and at execution level — has also raised some serious questions about the direction of development and quality urban infrastructure in Australia.
Two of the most important ones are how to extend the qualities Sekisui House exemplified through the development project and what kind of urban policies and standards can make that happen.

Australian building can and needs to change. For the better
Central Park is certainly iconic, but it is far from the only development being undertaken by Sekisui House.
Other projects and communities now underway include The Orchards in Sydney's Hills District, West Village in inner Brisbane's revitalising West End, Ecco Ripley in the picturesque Ripley Valley 9km from Ipswich and The Hermitage at Gledswood Hills near Camden southwest of Sydney.
While the locations, style, density and price points vary, what remains consistent is the Sekisui House foundational commitment to quality, sustainability, community and amenity.
The depth of heritage of this commitment takes a little understanding to be appreciated.
That's because it directly challenges the notion of cheap, cookie-cutter residential development that by its nature gives priority to margin and a quick build-to-sales cycle that too often compromises on principles, materials and longer term building lifecycle.
Almost everyone can nominate or name developments that they don't like, whether it's because of their unsympathetic construction, lack of connection to community or the pressure placed on surrounding services and environment.
What differentiates better building is the attention to functional design and materials quality combined with appreciation for the environment that's both embedded into a building and how that building relates to its surrounds.
This has to include the supply chain.
Traditionally in Australia developers have called upon builders who in turn source from building materials producers who design products they hope will have broad application. It's fair to say property developers here, on the whole, haven't actively invested in the research and development of building products, technologies and innovations.
That's changing.

Excellence applied, sustainability delivered
It's a very different story in Japan, where Sekisui House has not only been building for more than 50 years but developing key products, construction techniques and design technologies that allow it to provide an enduring warranty for its dwellings so long as they are regularly inspected and maintained to a specified standard.
One of the reasons this occurs is because housing is intended to be not just intergenerational, but to last multiple lifespans. It means that dwellings are constructed to be adaptable to family needs as they change.
It's a far more holistic and enduring approach, one that places a higher value on the home as a lasting, living place rather than as a transactional opportunity.
Toru Abe, Sekisui House's Australian CEO says his company's biggest aim here is "To provide better homes for Australian people – as many of them as possible."

Credentials that count
In Japan all of Sekisui House does not produce any waste on any construction site or factory because of its purposefully sustainable and skilfully integrated supply chain.
All the waste at construction sites and factories is collected and taken to the company's own recycling centre and then and converted into recyclable materials — from a piece of timber, plaster board right through to nails or cables.
It's certainly a better approach than unsorted skips filled with everything imaginable being sent straight to landfill as is commonplace in Australia.
Increasingly, Sekisui House's developments are 100% carbon neutral and have integrated passive design to permanently minimise energy consumption.
In Australia we more frequently look to photovoltaic (solar) cells as a way to generate and offset energy consumption. In Japan, the majority of Sekisui House's homes now feature rooftop cladding that is specifically constructed as a completely integrated solar cell.
It's that kind of thinking and application that potentially offers Australian communities huge upside. Imagine: what would an energy self-sufficient residential community that also used minimal water resources mean to the economy and environment?
What would it mean for housing affordability and community viability if there were substantive falls in the cost of utilities that now frame Australia's national debate?
There's still an important discussion to be had about how Australia manages the challenges of housing, environment, community and economy.
The good news is stakeholders like Sekisui House offer a committment to positive outcomes well beyond short terms gains.

Original article published on The Mandarin.